Sacred Heart Welcomes All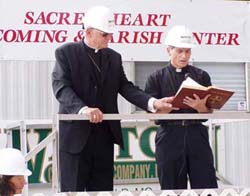 The Claretians have put a twist on the saying "Life imitates art" at Sacred Heart parish in Springfield, Missouri, where we see life imitating life. Just as Our Lady of Guadalupe, home of the National Shrine of St. Jude, welcomed Mexican immigrants to South Chicago in the early 1920's, Sacred Heart is home to thousands of Hispanics, some of whom work in nearby Branson in the construction, produce, and service industries.
Father Frank Iacona, C.M.F., pastor, is excited about the $1.2 million enlarged welcome and parish center to open in June. The center will seat approximately 270 and include a kitchen, offices, and classrooms that are connected to the church. "This project will provide space for English-language classes and other outreach programs to new Hispanic immigrants, helping us to fulfill our designation as 'The Welcoming Catholic Parish in Springfield,'" Iacona says.
The missionary efforts of the Claretians to serve where the need is greatest continue today. In Springfield, ministry to Hispanics began in the 1980s with one Spanish-language Mass offered each month at different parishes in the city. When Father Joe Peplansky, C.M.F. arrived at Sacred Heart in 1996, the Spanish Mass soon found a permanent home. That fall, he began offering a Spanish Mass once a month, then twice a month, and eventually every Sunday. At the invitation of Bishop John Leibrecht, Sacred Heart became a "welcoming parish" for Hispanics, and has retained that designation under Father Iacona, who succeeded Father Peplansky as pastor in 2005.
Iacona adds, "Our Hispanic population continues to grow, and the center will help us take care of the many social needs of recent immigrants, especially in the area of orientation regarding where to look for jobs, how to use city buses, medical care, and legal services. More than half of Sacred Heart parishioners are Hispanic, and some of them come from great distances to attend our Spanish-language Mass."
Because of the partnership of people like you, the Claretians are able to provide what is needed most—whether it be the Sacraments, spiritual food, or a place to call home. Thank you for your continued support!
All active news articles