Claretian Volunteer Serves Food for Body and Soul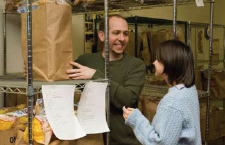 Claretian Volunteer John Marchese visits with a client at the Claretian-sponsored food pantry he helps run down the street from Immaculate Heart of Mary Chapel in Chicago's Back of the Yards neighborhood.
Claretian Volunteer John Marchese went from his job as a purchasing agent for a packaging company to serving up food to the poor. And he's never looked back.
At age 30, Marchese decided his presence was needed in important ways among the poor. "When I first got into the food distribution program, I said to myself, 'I can't believe people live like this,'" he adds. "Besides the food, though, I believe we give them a sense of hope, a sense that someone cares about them, that they're in our prayers."
In the Back of the Yards community on the south side of Chicago, the Claretians at Holy Cross/Immaculate Heart of Mary parish maintain a food pantry that distributes about 5,000 pounds of food each Wednesday.
John does more than just "work" five days a week at the parish - he truly ministers. "I remember one guy who came in for food; he just wanted to talk to someone, to tell someone about his troubles and that he had been in an accident, and was having a hard time."
The hope that the Claretians foster in all of their ministries thrives among the young people serving as Claretian Volunteers. They are typically just out of college and looking for an opportunity to serve and to grow in faith.
Claretian Volunteers are examples of the spirit of the Claretians, who partner with lay people throughout the world to nurture hope. "Our presence counts among people in need," John says of the volunteers. "Maybe by listening, we give people a little touch of hope that things will get better."
The Claretian Volunteers give of their time, talent and treasure, and they receive back the satisfaction of living God's word and growing spiritually as they come to know those they serve as individuals. "The gracious response we get from the people who come to the food pantry means so much," John says. "They are the same ones who help clean up, mop the floor, clean the windows. They give me all the inspiration I need."
All active news articles