"Lost Boy" Returns to Africa with Claretians' Help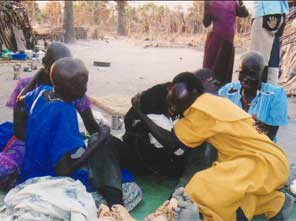 After 19 years, thousands of miles, many tears and countless prayers, the reunion of a mother and son who thought they had lost each other was nothing short of a miracle. Stephen Bayok, one of the Lost Boys of Sudan who fled the fighting there to start a new life in the United States, traveled back to Africa in December to rekindle his relationship with his mother, long severed because she thought Stephen had fallen victim to violence caused by a civil war.

Stephen Bayok receives a kiss from his mother as his grandmother and
other relatives look on durning Stephen's first trip to Africa after six years.
"It was some kind of dream come true," Stephen said of his homecoming. "I wasn't sure if I would ever see my mother again."
Stephen came to Corpus Christi Parish in Stone Mountain, Ga. as a refugee nearly six years ago. In 1987, along with thousands of other Sudanese boys, many of them younger than ten years old, Stephen left home in search of safety and peace. After stops in refugee camps in Ethiopia and Kenya, he and several others landed in Clarkson, Ga. where they met the Claretians.
Gini Eagen is a pastoral care worker at the Claretians' Corpus Christi Parish, and she bonded with the group immediately. Mama Gini, as the Boys now call her, along with Father Greg Kenny, C.M.F. ministered to the Boys' spiritual and physical needs as they became accustomed to their new home, and today the Claretians continue to provide pastoral care, including the sacraments.
The return to his childhood home, war-torn for so long, was both wonderful and challenging for Stephen, but he was touched at how their return inspired the people he had left behind.
"Our presence in Southern Sudan was a sign to them, giving hope to them, that we are brothers and sisters in another part of the world," he said.
Stephen says the experience strengthened his faith as well.
"I believe each one of us is serving in God's plan," he said, "and we must be patient for God's plan."
The nine Lost Boys who made the journey to Africa had two goals in mind: to find their families and to visit war-affected areas to invite people there to discuss ways the Boys could help. They felt they could offer hope and healing to many who desperately need it. Since the Boys returned, Father Kenny has noticed a change in them, and he feels the trip was a healing experience.
"I think something really good happened for them," he said. "In some ways, I think they are more at peace, and the Claretians are grateful to be a part of that."
All active news articles