Campus Ministry: Passing on a Living Faith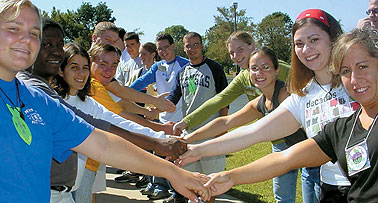 When Erin Wilson decided to transfer to a different school, it wasn't just the standard fare of social life, professors, and majors that influenced her choice of Southwest Missouri State University in Springfield. When she stepped foot in the Catholic Campus Ministry house staffed by the Claretians, she knew she was home.
Father Eddie De Leon, a Claretian since 1991, is one of the main reasons more than 5,000 students become involved in the campus ministry program of three universities-SMSU, Drury University, and Ozarks Technical Community College. "He's the coolest guy I've ever met!" Wilson says.
It is heartening to know that, while so many young people seem to turn away from their Catholic faith, they are responding in places like Fr. De Leon's campus ministry program, where Catholic values like attending weekly Mass, hit home. Fr. De Leon's sense of humor and ability to relate to young adults has made his name known across the SMSU campus. Student Brian Carel says, "Even if they're not Catholic, people just like to come hear Father Eddie talk because he's got such insightful things to say."
For most college students, spring break is that long-awaited excursion to the beach. But some students use the week to give of themselves in Father De Leon's Urban Plunge Spring Break program. Students volunteer at centers for handicapped adults, homeless shelters, and many others.
"The Urban Plunge gives the students an opportunity to learn from another's plight, reflect on their own spiritual journey, and provide some assistance to those less fortunate than themselves," he says.
The student-led Awakening Retreat is also popular and helps students 'wake up' to their spiritual path and prayer life. "More students are interested in that retreat than any I've ever seen," says Father De Leon.
Father De Leon considers the relationships and personal growth as significant as the degree the students will take with them when they graduate. "The students are searching for knowledge and want to know what good morality is," he explains. "It's so important that we give them the foundations they'll need to live well as Catholics in their communities, and throughout their lives."
All active news articles