Dare to take a risk
Commitment to justice strengthens faith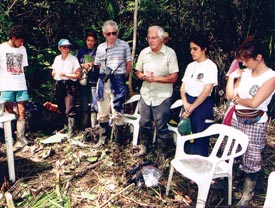 You need to be wherever the need is greatest and your passion is strongest, even if it's difficult. When we are where there is no effort required, we get lost. What is important is to know clearly why you are doing it.
My work in Colombia is with the Peace and Justice Commission in the defense of the human rights of 14 Afro-Colombian communities. Our work is to accompany their processes of education, to seek a sustainable economy in the midst of war, and to defend their right to the land.
Many times paramilitaries or the army displace, persecute, or kill these people. Our task is to provide a visible and protective presence. Of course we feel angry and sad when we see the injustice, but we need to channel our anger constructively. For our ecumenical team, a common faith in Jesus strengthens our search for justice. This opportunity fills me with energy and joy as well as responsibility. I lean on my community and on daily prayer to face all the harsh realities.
I attended the Franciscan Sisters' school in Bogotá. Seeing those women who were full of joy, unconditional love, and commitment for my people and ready to give their lives for a cause called me to do the same. When I was about to graduate from college, I went back to join the congregation.
When I entered the novitiate in 1994, I started this work, which strengthened my faith and my vocation. Sometimes it is overwhelming—you have to face crisis after crisis—but I am grateful for the opportunity to do it.
I came to the United States to get a master's degree in clinical social work, and I have worked here with victims of torture and political repression from many different countries. I am struck by their resilience, the fortitude these people generally have. They go through very deep spiritual crises but discover a very personal and real God; they have the capacity to struggle personally and collectively. This has also strengthened my commitment and my desire to serve.
Some young people may fear this sort of intense commitment, but they all are seeking meaning in their lives. In any way of life there are difficulties and joys. It is the same here. We need to discover the mission little by little.
The point is to use your passion, to see how to shape different ways to live the call of the Spirit, to feel that you are not alone in your mission.
Your turn
Where is your passion?
How do you live it out and place it at the service of others?
All active news articles