Home, sweet home
Finding God´s grace in the midst of pain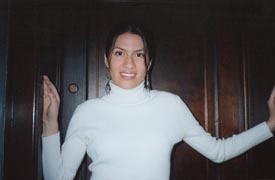 The worst thing was the uncertainty of not knowing what was wrong with me. Doctors, hospitals, sleepless nights, pain all over my body… and no one knew what was happening to me. Knowing I had a terrible sickness would have been better than the anxiety at that point.
I am 21 years old. When I was about 13, I left the Catholic Church and became a Mormon because I was attracted to the community. I practiced that faith unquestioningly for seven years. A few months ago, when I became very ill, I started having doubts about everything. I was wondering about God's plan and where God was in all this.
Something quite surprising happened to me then: A voice seemed to invite me. I started feeling the desire to go to the Catholic Church, and I attended several services with my mother. But I still did not want to come back and kept going to the Mormon temple.
One day I dreamed a whole Catholic liturgy, and the following Sunday I attended Mass at St. Frances of Rome in Cicero, Illinois. It was, to the very last detail, as I had dreamed it. I started to cry, but they were tears of joy and peace. I felt a deep peace and a strong presence of the Spirit.
I went to speak to the pastor and told him I wanted to come home. He laughed and told me not to do it just to ask for a miracle and to feel better physically! I should only do it if I was convinced. I agreed but insisted I wanted to do it: I knew God was with me, had touched me, and in my illness was speaking to me and leading me gently back home.
The surprising and wonderful thing was that a little while afterwards, the doctors found out what was wrong: a slipped disk was pressing on my nerves.
A period of slow recovery started. But the best thing was the great joy, peace, and trust I felt. I prepared for Confirmation and to be received in the Catholic Church again.
I now think there was indeed a hidden plan in all this: There was a call of God to seek him out and to seek what is essential in my life. Through my sickness and pain, I found what my heart desired. All that I had been looking for elsewhere I had in my own family. Now, with God's grace in my life, I will continue to walk in hope and trust. I have come home at last.
Your turn
Have you ever had painful moments in your life when you have wondered what God's plan would be for you?
Did you find the presence of God in all that?
All active news articles