Let´s dream and work together
No one leaves empty-handed from Centro Juan Diego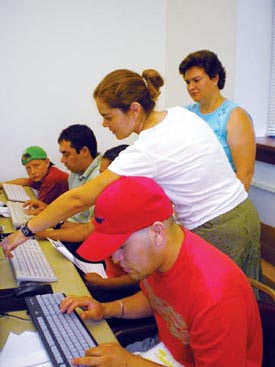 Whoever comes here does not go away empty-handed. I am talking about work and opportunities to collaborate with the Centro San Juan Diego in Denver, which I direct.
Some come to learn English, to receive computer training, to get legal advice, or to finish their studies. Others need guidance on how to start their own business or help in preparing for their citizenship exam. Many are looking to deepen their faith, to learn more about the Bible and church teaching. They are, and want to be, catechists, youth and prayer group coordinators, and there are even those who are considering a religious vocation.
The key to our success has been the dozens of volunteers and professionals who have committed their time and talents to help others. Many of them came looking for help for themselves, and soon they realized that while they were receiving help, they also had something to give.
Amidst this coming and going, true friendships are formed, deep conversations take place, and sincere soul-searching occurs. Some who had been away from the church have found their faith again. And others who came because of their faith have not been able to resist answering the needs of their brothers and sisters.
It is rewarding to see how the formation has helped people to commit themselves even further and more deeply in their parishes. Some of the graduates from our program are becoming teachers to the next generation.
The center is a miracle come true through the contributions of countless individuals. I dared to dream and share that vision with other people. Working together with bishops, members of the advisory board, foundations, sponsors, employees, and volunteers, we have made it a reality.
Two years after its opening, the Centro San Juan Diego has become a bustling place with tireless religious and social activity. Our guiding principle is that faith and good works must always walk side by side. Thus, while we form youth and adults in their faith so that they can serve their communities and parishes, we also try to fight the lack of resources and opportunities in our community through education.
Your turn
What can you offer to your community?
Is there an organization or community center where you can volunteer your talents?
All active news articles