Homegirl Café cooks up hope
Homegirls trade gangs for the grill and some new hope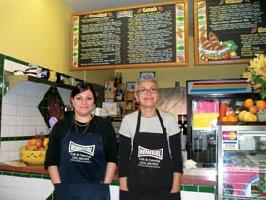 "Traditional Latino flavors with a contemporary twist" is how the Homegirl Café in East L.A. describes its menu. But there is a lot more than that cooking behind the counter.
The café is one of the many enterprises of Homeboy Industries, an organization founded by Jesuit Father Greg Boyle in 1988. Its purpose is to offer hope to at-risk and gang-involved youth by providing them with job training and placement, education, counseling, and tattoo removal, among other services.
Homegirl Café is in the Misión Dolores district, home to 28 different gangs in a 1-square-mile radius. The café reaches out to an often forgotten group of people: young women who are gang members or who are at risk because their boyfriends, male relatives, or friends belong to gangs. The café, under the guidance of Patty Zarate, offers employment and training to these women so that "the girls have some reasons to hope and see there is much more for them to be." Zarate manages the café, trains the women, and lives out her own passion: cooking.
She describes herself as a "dishwasher, counselor, and mother" to the 11 young women who are participating in the program and come from different gangs. Some girls have tried employment somewhere else, but they have to take care of their kids and it is difficult for them to hold on to their jobs. But it's all about hope.
Cerena Fuentes is one of those women. After serving five sentences in juvenile detention since she was 12, a court-ordered, community-service sentence led her to Homeboy Industries and from there to the café. Her whole family is related to gangs and drugs, which have claimed the lives of four of her relatives.
"If you live in this neighborhood, you are in, around, or from gangs," she says. But Fuentes made a decision not to be in a gang: "I didn't want to be like my mom." She now works full time at the café, and although it is hard work, she now can dream of working with kids and going back to school.
Fuentes had been on her own since she was 15 years old, but she now lives with a friend who has welcomed her at her house as long as she abides by her rules. "When I moved in with her she told me I had to change, and at first I was upset. What right did she have? But she said I could always live some place else. Now I do not miss partying with my cousins all night and having hangovers."
Reflecting on a life related to gangs, Fuentes asks herself: "What is the whole point of a life like that? Why do we choose to fight? What is it doing for us? Why the killing? What is the purpose? It makes no sense."
She has now found a new opportunity in life and a new hope at the Homegirls Café. As Zarate says, "This is the place of 22,000 chances. I have no problem with that."
Your turn
What are your hopes for the future?
Has any one ever given you a second chance?
What opportunities do you have of making your life and that of others better?
All active news articles