Are You Ready To Be a Leader?
By: Carmen Aguinaco
Hispanic theology and ministry programs.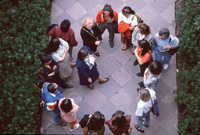 We need to think from the hyphen. For most of us, our identities are hyphenated compounds of different elements. Nothing is purely English or Spanish or anything else. This is the view of Father Mark Wedig, O.P., chair of the philosophy and theology department at Barry University in Miami.
Wedig believes we need to think and act bilingually and biculturally. That is why his department has begun a new program in Hispanic Pastoral Ministry. Barry already had a program in Spanish through the Southeast Pastoral Institute, but there was an urgent need to also have an English program that could reach young Hispanics born and raised in the U.S. The program is culturally sensitive and based on the Hispanic-American culture.
One of the biggest challenges for the Hispanic Catholic community in the United States is the scarcity of theologians who are able to reflect on the Hispanic reality and to help move this growing Catholic community toward the leadership to which it is called in the church. Programs in Hispanic theology are an answer to this challenge and an invitation to all.
Other universities across the country are also beginning or expanding their programs in Hispanic theology that focus on the reality of Latinos in the U.S., rather than just adapting one from Spain or Latin America. This is an acknowledgment that reality is different here.
Barry offers a master of arts or doctorate program with a concentration in Hispanic ministry and theology. Similar programs are offered by the University of Notre Dame in Indiana, Catholic Theological Union in Chicago, Oblate School of Theology in San Antonio, Texas, Jesuit School of Theology in Berkeley, California, and Catholic University of America in Washington.
Although these programs are naturally very attractive to Hispanics, they have also become popular with people of other origins because they focus on such an essential part of the present theological context of this country.
Your turn:
Is reflection on the truths of our faith important for better serving the Catholic community in the U.S?
Have you ever considered studying theology as a service to others?
How do we place ourselves in someone else's shoes?
All active news articles