Real Men Do Pray
By: Sister Yolanda Tarango C.C.V.I
Dad's spirituality sets example.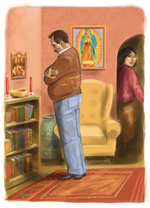 Each night my father assumes his prayer stance and whispers to God his gratitude along with his concerns and petitions for each of us, his children and grandchildren, and for the world. Some in our society still believe boys don't cry. Do boys also fail to openly express their spirituality? While I don't feel qualified to probe into men's spirituality, I can comment on my experience of growing up and seeing my father pray. I believe that I got the message early in my life that we depend on God for everything. If my father, who I believed could do anything, got on his knees every night and prayed, then surely God must be powerful.
My parents praying, the religious images throughout our house, the nightly blessing we received from each of our parents before bed, the prayers we said together around the table and the family rosary all contributed to a tangible sense of God's presence. From the earliest memories of my father praying by his bedside at night to the present, I know that my parents' prayers carry me through the day.
Apart from times of private prayer and formal religious observance, my father's spirituality is most visible on the canvas of daily life. He is never too tired to comfort a grandchild, run an errand for my mother, or be present to us when we need him. Now that he is retired he has more time for "the things that really count," spending more time with each of us and with God.
Chapter 13 in the First Letter to the Corinthians describes love as patient and kind, with no limit to its forbearance, its trust, its hope, or its power to endure. That description fits my father. It is the legacy that he has given me and that will live on in the expression of my spirituality.
When I think of spiritual mentors or guides, I think of those people who both exhibit a deep spirituality and inspire us to seek that same "pearl of great price." I realize now that my father was one of my first spiritual mentors. By his example he taught me that we depend on God for our very life and that our life is for bringing the experience of God's love to others.
—Excerpted from U.S. Catholic magazine
Your turn:
Have you ever thought that men do not cry or pray? What is your experience?
Who has helped you to pray? Who is your role model?
All active news articles