When God Gets In The Way
By: Father Fernando Torres, C.M.F.
A married couple makes a commitment to their community.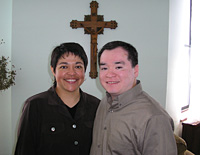 Rita and Marco López tell me, almost simultaneously, that "God has been getting in our way." A married couple, they both work in ministry at Holy Cross/IHM Parish in Chicago. But it all began before they even met each other. Rita says that she witnessed her Mexican immigrant parents' example in never forgetting to help those who were in need. Today she is a social worker at her parish.
Marco was born in Chicago, and since his youth he has felt he had a vocation. He entered the seminary but realized that priesthood was not his call. He continued to work serving Latinos. He was first a teacher but then went on to work in the formation of Hispanic leaders in Chicago parishes.
Marco first thought he would be involved in this type of ministry for a few years and then would look for a "real" job. But he has continued to be called to work in pastoral ministry and has understood that it was God who called him.
Rita and Marco met at a course offered by the Pastoral Leadership Institute of the Archdiocese of Chicago. They got married and decided that their commitment to their faith and the Hispanic community should continue to be part of their married life.
Today Rita is preparing to manage a new project at Holy Cross: a home for troubled youth. Both know that service to others is part of their lives. God got in their way and continues to meet them in their lives, inviting them to accept new responsibilities within Hispanic ministry. They do not worry about the future because, as they say, "this belongs to God and God will provide."
Your turn:
Have you ever taken a risk to help someone and then trusted in the help and presence of God with you?
All active news articles