Crossing Cultural Bridges
By: Sister Silvia Chacón, A.S.C.
A radical activist's journey to serving the community.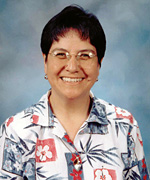 Sister Silvia Chacón, A.S.C. is a radical, a poet, a carpenter, and a cultural minister of salvation. Her story is that of a woman who struggled to overcome poverty, racism, and anger so that one day she would be able to build a bridge toward the love and beauty of her Latino brothers and sisters.
Chacón was born in the locker room of a baseball park, where her mom worked as a janitor. Her father and mother each lived on either side of the border and were only able to get together during vacation. She studied English at the university in El Paso, Texas, where she became an activist in Chicano and women's organizations.
"I was very hurt by the injustices done against my people. If anyone had given me a gun back then, I would not have hesitated to use it. That thought scared me," she says. After that, she realized that all the hate was burning her inside, and so she decided to withdraw from those organizations.
One day Chacón was showing a group of children the movie Tapete ("Flower Carpet") by Rosa Guerrero. While watching the film, her heart changed when she saw Rosa do what she had "always wanted to do, and Rosa was doing it in a very tender way."
Later, while working at a YWCA, she came into contact with the Adorers of the Blood of Christ. With the sisters' help she discovered that "prayer was the answer I was looking for; it was the heart and focus of the energy that I had not found when I was involved in the Chicano and women's organizations." She eventually decided to join the Adorers of the Blood of Christ.
Throughout her years as a sister, Chacón has kept and treasured the many cultural symbols and traditions of the Latino community. These are an important part of her ministry because "they greatly help Latinos and others who feel estranged within the American culture."
Today Sister Silvia works in El Paso through her "ministry of accompaniment, being and sharing with people their lives," mostly with undocumented Mexicans. "I tell them that we are all loved people, that we are all pilgrims."
Your turn:
What are the causes that provoke the most anger in you?
How could you channel your energies?
Where are you looking?
All active news articles