A Different Kind of Adventure
By: Linda Unger
A Bolivian sister's new mission in East Timor.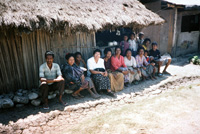 Rosalva Sandi was born in Potosí, Bolivia, a poor South American country. She got a good education and became a computer expert with a bright future. Sandi had many career opportunities. She taught computer science, worked as a programmer at a mining company and as a systems operator at Citibank in the Bolivian capital of La Paz. She loved to practice high-risk sports, joined the Bolivian Mountain Climbing and Camping Club, and had a handsome, serious boyfriend.
Sandi lived life "in the fast lane," she says, but still felt something was missing. She found what she was looking for when she joined the Maryknoll Sisters in 2000. Three years later she was assigned to serve in East Timor. There she found life even more dangerous and exciting.
Sandi arrived in East Timor after the great upheaval. The country was ravaged, and thousands were left to face homelessness, devastation, and scarcity of food and supplies. Some of these injustices are being redressed now through political reform and new economic development.
Wanting to help in the reconciliation between East Timor and Indonesia, Sandi has also gone to the camps in Indonesia where refugees from Aileu live, the East Timorese town where she serves. Some of them are members of the anti-independence militias that had engaged in atrocities and are now afraid of retaliation.
"It will be a long process for the people to find justice and recover from the trauma of war," says Sandi. "But the people of East Timor are full of determination, and I am thankful to be here, to listen to the people so that I can work and pray with them."
—Excerpted from Revista Maryknoll
Your turn:
Have you ever felt you had a lot of things but something was missing?
What do you think is the difference between adventure and mission?
All active news articles