three brothers!
Friday, May 22, 2009
By: Marianne McDermott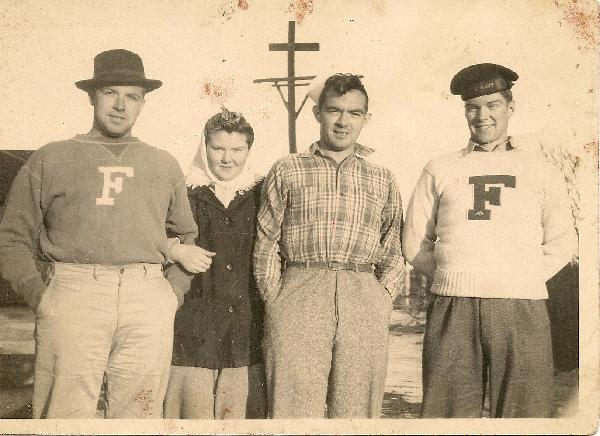 Edward, Carl and Leo McDermott all served during World War II. As of February 27, 2009 - all "three" are serving in Heaven on a different kind of "front" The war of Good vs. Evil!
Edward, Carl and Leo McDermott all served during World War II. As of
February 27, 2009, when my Dad, Edward passed away - all three are NOW serving on a different kind of "front". They are serving in GOD's Army, fighting against the forces of "good vs. evil"!
Although this story is about 3 brothers. Their father, Thomas McDermott had a lot to do in influencing their decision to to fight during World War II. Being patriotic was not a dirty word nor an embarassment -- it was a "way of life" back in the 1930's and 1940's. You cared about your neighbor and also your family and helped them when ever you could, even during the Depression. But when
Pearl Harbor was attached on December 7, 1941, this attack affected everyone in this country and so many joined up to fight the enemy, the Japanese. Edward and Carl joined the US Navy, while Leo joined the Marine Corp. Edward and Carl were stationed in the USA(California and Panama), but Leo was sent to Guadalcanal in August of 1942. Leo was the only who saw "live" war action, in fact, he was the only survivor of his company. His commander died the first day they were there. Through sheer guts and determination, my uncle survived the worst part of the war, especially in ground fighthing.
These 3 brothers did not meet up until 1946. I have included a picture I found just recently. The young lady in the picture is my Aunt Patsy Bateman, who lives in California. She is the only surviving member of my Dad's family. So may all families be remembered on this day, from the Revoluntionary War up to the war in Irag and Afganistan. It is through selfless acts of bravery and heroism that we STILL enjoy our freedoms today. May GOD bless all of our troops!!!
All active news articles