The price is right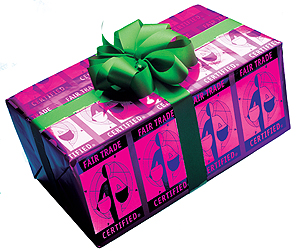 Buying fair trade products can bring peace of mind and peace on Earth.
ONE OF THE FIRST CHRISTMAS decorations we put up at the beginning of each Advent is a small, brightly painted nativity set that my parents bought for me as I headed off to college. Missionaries from El Salvador who spoke at our parish had sold crosses, nativity sets, and ornaments made by artisans in their community after Mass.
As my children put that nativity set on the kitchen windowsill each Advent, we talk about it as a reminder to prepare our hearts for the coming of Christ, the Prince of Peace who brings hope for the oppressed. We try to remember that justice and peace are not unattainable issues out there that we simply pray for, but goals we can begin to grasp with our actions. The nativity set also serves to remind me, as I do my other Christmas preparations, to keep in mind what it means to work for justice in the world and how intimately connected peace is with helping the poor.
The missionaries selling items at my parish were part of myriad grassroots efforts that make up the fair trade movement. TransFair USA is the U.S. label for fair trade food items and is a part of Fairtrade Labelling Organizations International. Its definition of fair trade is "a trading partnership based on dialogue, transparency, and respect that seeks greater equality in international trade. It contributes to sustainable development by offering better trading conditions to, and securing the rights of, marginalized producers and workers."
Catholic Relief Services has had a long commitment to fair trade. Every fall the organization produces Work of Human Hands, a catalog of fair trade gifts and food. Its first fair trade effort was coffee because nearly 25 million people, who are mostly poor and exploited, grow it. Coffee costs about 80 cents a pound to grow, and most companies purchase it at 40 to 50 cents a pound. A fair trade label on coffee means that its growers were paid a minimum of $1.26 per pound. CRS's commitment to getting fair trade coffee into 10 percent of American parishes has had a huge impact worldwide.
Some local stores have some fair trade items in stock, but I do most of my fair trade shopping on the Internet. There are chocolates from Ghana, stationery from homeless women in Chicago, baskets from Uganda, candles, clothing, jewelry, musical instruments, wooden puzzles, and hand-sewn puppets. One of my favorite places is Ten Thousand Villages (tenthousandvillages.com), which has more than 160 retail locations around the country. Another favorite website is globalgirlfriend.com, which showcases a variety of items made by women worldwide.
Each item I buy comes with a tag that explains who made it and where that person lives. I like to keep that in the gift and let the recipient find it. I bought my niece, who was a music major, a drum from Indonesia. She loved the beauty and uniqueness of the gift, and when she discovered the tag, she said it was even more personal—like she was continuing to care for this person's precious work. My children love to keep the tags so they can remember the people's names and where they live.
One of the realities of buying fair trade is that the gifts tend to be more expensive. That is hard for me as I try to stick to the Christmas budget. But the trade-off is worth it. I feel like the gift is given three ways: to the recipient, to the one who made it, and to me because it just feels right.
These Advent preparations have influenced my life outside of the Christmas season. As I buy wedding gifts, birthday gifts, and even everyday items, I try to buy fair trade. The more I use my purchasing power to empower others in the world, the more I feel I make room in my heart for the Christ of peace and justice.
Christina Zaker is a freelance writer who teaches peace and justice for the Archdiocese of Chicago.
Click here for more about Fair Trade as well as links to online Fair Trade shopping at Salt of the Earth.
All active news articles