The price is right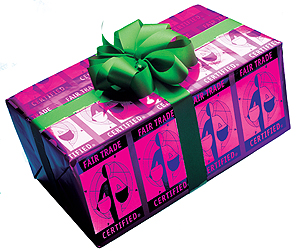 Fair trade resources
There are plenty of places to use your purchasing power to support fair trade. This resource list includes places to find Fair trade items that support sustainability around the world, including items made in the US with a commitment to uplifting the lives of local people. There is one site where you can check the track record of your favorite stores with regard to their commitment to labor justice and the environment. This is just a sampling of all of the possibilities for fair trade buying.
Ten Thousand Villages has been a part of Fair Trade since 1946 and has over 160 retail shops in North America. Check out their web site: www.tenthousandvillages.com to find a retail shop near you, or to buy products online.
Other Retail Shops in North America:
Arizona –
WHEAT's
4000 N. 7th Street
Phoenix, AZ
(602)241-0371
California –
Ananse Village
17800 N. Hwy 1
Fort Bragg, CA
(707)964-3534
Global Exchange
2840 College Ave.
Berkeley, CA
(510)548-0370
(Also in San Francisco)
Kindred Handcrafts
605 Fourth Street
Santa Rosa, CA
(707)579-1459
Florida –
Lucuma Designs
1144 Tallevast Road Suite 107
Sarasota, FL
(877)858-2862
Taqua – Ivory Products LLC
1024 Snapper Lane
Key Largo, FL
(305)852-4676
Illinois –
The Blessing Basket
1201 W. First St. Warehouse 3A
Granite City, IL
(888)618-1503
Bright Hope International
2060 Stonigton Avenue
Hoffman Estates, IL
(847)519-0012
The Coffee and Tea Exchange
3311 N. Broadway
Chicago, IL
(773)528-2241
Crossroads Global Handicrafts
428 N. Main Street
Bloomington, IL
(309)827-0121
Global Village
1308 E. Seiberling
Peoria Heights, IL
(309)681-8180
Kentucky -
Just Creations
2722 Frankfort Avenue
Louisville, KY
(502)897-7319
Michigan –
Otavalito
421 Water Street
Sugatuck, MI
(269)857-7199
Minnesota –
Alsadu, Inc.
13056 Euclid Avenue
Apple Valley, MN
(952)431-2514
Tradewinds
857 Grand Avenue
St. Paul, MN
(651)293-9275
Nebraska –
Blue Summit
41018 120th Street
Omaha, NE
(402)333-1405
Oregon –
Weaving Hopes
4525 NE 85th Avenue
Portland, OR
(541)913-7982
Wisconsin –
A Greater Gift
122 State Street Suite 600
Madison, WI
(800)423-0071
Plowshare Center
880 N. Grand
Waukesha, WI
(262)547-5188
A sample of Internet Sites to purchase fair trade items or to learn more about fair trade:
www.agreatergift.org – A partner with Catholic Relief Services, they have developed partnerships around the world.
www.crsfairtrade.org – This is the site of the Catholic Relief Services Fair Trade network
www.equalexchange.com – This is the oldest fair trade company in the US. It specializes in food products – coffee, tea, chocolate etc.
www.fairtradefederation.org – A Fair trade network with links to fair trade web sites as well as a list of retail stores in the US that sell fair trade items.
www.greenpages.org – Part of Coop America with links to small cooperatives of fair trade as well as environmentally friendly products.
www.globalgirlfriend.com – A unique boutique of fair trade items made by women around the world.
www.globalmamas.com – Handmade apparel made by women from Africa.
www.motagifts.com – Ministry of the Arts web site consists of locally made products that are developed with a commitment to ministry toward both producer and customer.
www.oikocredit.org – A pioneer in micro credit. This site offers information on micro credit and opportunities to invest as a shareholder in entrepreneurial efforts by underprivileged people in developing nations.
www.responsibleshopper.org – Database of stores and manufacturers with a record of praise and criticism for their commitment to worker justice and the environment.
www.tenthousandvillages.org – Links to small cooperatives and entrepreneurs world wide. They have over 160 retail shops in North America
www.transfairusa.org – The fair trade food labeling organization in the US. This site provides information on labeling policies as well as a list of places to purchase fair trade food products.
You'll find more about Fair Trade as well as links to online Fair Trade shopping at Salt of the Earth.
All active news articles