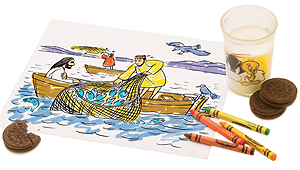 A diet high in faith is good for the souls of both children and parents, finds a special online survey of readers of U.S. Catholic and our family newsletter, At Home with Our Faith.
On Palm Sunday 2007 Father Joseph Kraker poured water over the head of a baby boy in St. Vincent's Church in Akron, Ohio. "I baptize you in the name of the Father, and of the Son, and of the Holy Spirit," he said, grinning as the baby sent forth a mighty howl.
Fast forward to 2022. The Akron baby is now 15. After all his Catholic schooling or weekly religious education classes, all those years of grace before meals and Sunday Mass, the young lad in question may be thinking of joining the seminary or may be about to try out some Buddhist meditation practices—who knows? But one thing is likely: His parents will find that their own faith has been strengthened and deepened by the very process of handing on the Catholic faith to their child. Educating one's kids in the faith, it turns out, is probably the very best adult faith education going these days.
That's one of the findings of U.S. Catholic's recent online survey of readers of this magazine along with those of At Home with Our Faith, Claretian Publications' newsletter for Catholic parents, as well as readers of its e-mail meditation for parents, Weekly Wisdom. The 249 respondents consistently reported that their own faith had grown stronger and deeper through the process of raising their children in the faith.
"It has made me more spiritual—it has made me pay closer attention to how I live. I want to practice what I preach, and there is less room to be lazy about it," writes Jennifer Pfaffl of Greenville, South Carolina. Another reader writes of uncovering "areas where my theology is still stuck in what I was taught in grade school, and I've sought out the more complex answers that make sense to me as an adult."
From HomeFaith.com:
Like a rock
I think my son must wonder sometimes how much of his world is built on shifting sands. A year after he graduated from our parish's Catholic grammar school, it closed due to low enrollment. Last year he graduated from Chicago's high school seminary, a historic institution attended by my husband, my brother, and scores of men we know: It is sadly closing after this school year. Our city's landmark department store, Marshall Field's, where we used to shop, last fall was bought out by Macy's of New York, now despised by many Chicagoans for dumping the Field's name. Our local ice cream parlor, a neighborhood favorite since the 1970s, closed while he was away at college. I could go on and on . . .
<<read more>>
"I often wish I could go back and do it over again with my kids now that I know more about the Catholic faith," writes a Minnesota mother.
"The change agent is being changed in the process," says James Davidson, professor of sociology at Purdue University and co-author of American Catholics Today: New Realities of Their Faith and Their Church (Rowman & Littlefield), who examined the (admittedly unscientific) survey results. "Sometimes you may not know if the kids are getting it, but even if the kids don't, the parents seem to benefit. By engaging the next generation, you're strengthening your own faith."


Be prepared
Bear in mind that the respondents to the survey do not necessarily reflect the average American Catholic parent: Along with being disproportionately female, their reading of U.S. Catholic or At Home with Our Faith signals that they are likely more active Catholics. Given those facts, perhaps it is no surprise that 74 percent feel "confident and well prepared for the job of passing on the faith" to their children.
That doesn't necessarily mean, however, that they feel prepared on every topic. When asked to name the religious issue or question they feel most unprepared to talk about with their kids, some did answer stoutly, "None!" Many parents, though, confessed to being stumped on a variety of topics. Frequently mentioned were the recent sex-abuse crisis as well as church teaching on sexuality, including homosexuality, abortion, birth control, and divorce.
"We have many gay friends and are used to having an open, accepting attitude in our home. It is hard to reconcile our stance . . . with the sometimes harsh language about homosexuality in the Catholic media and hierarchy," says Carolyn Matthews of Arnold, Maryland.
"I was married before," says one Florida mother. "My husband abandoned me and never returned. I am remarried and we have two children. I cannot receive Communion because I haven't had an annulment, which I find ridiculous."
Another difficult topic was why God permits evil: "My 15-year-old has a hard time believing in a kind, loving, and merciful God when his 6-year-old brother has cancer," writes Angie Dianetti of Stow, Ohio. "He cites biblical references of deaths of innocent babies as proof that the opposite is true."
When asked what was the most important thing they wanted to pass on to their child about the Catholic faith, over and over again readers wrote variations on the idea that "God loves and forgives" and "God is always there for us."
"Pre-Vatican II Catholics were raised to believe that God judges you," says Davidson, "that you ought to be afraid of God. This changing image of God is something that amazes me—we've done a 180 on who God is." He also points out that responses to this question mentioned the faith, but seldom the church itself. "Maybe they're assuming the church itself will be passed on, but I wouldn't. If what you pass on is that God loves you, that doesn't differentiate you from a Baptist or a Methodist or anyone else."


It takes a church
Those in church circles spend a fair amount of time these days bemoaning the failures of religious education in recent decades and the rise of religious illiteracy among Catholic adults. When asked about their own religious education from childhood through young adulthood, however, these readers by and large tell a different story. Forty-five percent said their own religious education was either good or outstanding, and another quarter said it was adequate. Only 16 percent said their religious education had been "poor."
These numbers did tend to differ, however, depending on age: Readers with children 19 or older were more likely to say that their own religious education had been outstanding or good (61 percent). This number drops to 51 percent among parents of children 11 to 18, and to 36 percent among those with children younger than 10.
Respondents tend to be an active bunch in terms of their faith life: More than 80 percent reported attending Sunday Mass as a family, observing Lent and Advent in the home, and discussing moral issues and news stories in the light of faith with their kids.
When they need help handing on the faith, more than half turn to Catholic books, a spouse, or a friend for support. More than 40 percent consult the Internet, Catholic periodicals, and the priest or staff at their parish. "They're using their closest relationships along with some mixture of experts," which indicates that handing on the faith is not a private affair, says Davidson.
Parishes may want to think about how they present the process of handing on the faith, he says. "Rather than isolating parents—telling them 'It's all about you and your kid'—we could say, 'There's a whole community of people involved in this and you can use them: the parish community, the priest, your spouse, your friends, your parents.' "
Catholic schools fared somewhat better than religious education classes in terms of how many parents were satisfied with the quality of their children's religious education. These parents also tended to see the parish as a resource, a backup: "Let the parents be the primary educators. Offer programs but allow the parents to determine faith readiness," says dad Bernie Tomasso of Port Byron, New York.
Many called for intergenerational groups and especially for a welcoming attitude. "Be loving and welcoming. Break down barriers of exclusion and personal piety that demean others," says Paula Kampf of Cleveland.


Living the faith
As for what parents saw as their kids' best experiences of faith so far, three answers emerged from the pack: First Communion, service activities such as working in a soup kitchen or building houses for the poor, and events involving family. These experiences of faith can be both deeply personal and communal, and both joyful and sorrowful.
For Nancy Harvey's children in Green Cove Springs, Florida, "the best experience of faith has been their father entering the Catholic faith."
Sally Morris of Ridgewood, New Jersey recalls the experience of her community after September 11, 2001. "We lost 11 dads, many friends' fathers. Our community handled it beautifully, centered around our church." Hers is an understated comment on how family, parish, and God can be there in the worst of times.
Catherine O'Connell-Cahill is senior editor of U.S. Catholic and managing editor of At Home with Our Faith, (homefaith.com).

Feedback
The most important thing I want to pass on to my child about the Catholic faith is . . ..
It's true.
Noreen Neitz
Gettysburg, Pa.
God is a God of love and forgiveness.
Gerry Czerak
Naperville, Ill.
It is a universal faith—all are welcome!
Madeleine Breen
Akron, Ohio
How amazing and liberating it feels to embrace the discipline and obedience of the Catholic faith.
Julie Zasada
Cedar Lake, Ind.
That to follow Christ means to actively engage in social justice. Catholicism is not just a private set of religious observations. We are a communal faith and we are called to protect the weakest among us—always.
Jeanie Lewis
Chicago, Ill.
That this is a faith built on hope and joy, centered on our direct encounter with Christ in the Eucharist. Does it get any better than that?
Name withheld
Cincinnati, Ohio


The religious issue or question I feel most unprepared to talk about with my kids is . . .
The sex abuse scandal. My kids aren't old enough to have "the talk" yet.
Lori Anderson
Shoreline, Wash.
Reconciliation. I am not sure I believe in it, and since I don't go myself, it's hard to say she has to.
Stephanie Miller
St. Joseph, Mo.
None. Not that I'm all that knowledgable, I just don't feel like any topics are off limits or uncomfortable.
Melissa Wright
Plano, Texas

Standing strong with the teachings on current issues, such as the war in Iraq, abortion, and the death penalty. It is so easy to remain silent in the face of popular opinion and the very law of the land!
Donna Fisher
San Antonio, Texas
Why people who say they love Jesus don't always act that way.
Rebecca Dietz
Indiana, Pa.
Recently the issue of the "lost tomb" of Jesus. I was not prepared for questions from my 12-year-old. I didn't even know that the show was on. I have learned to be more aware of the news.
Kathy Brasseur
St. Petersburg, Fla.
How Jesus' death opened the doors to heaven. It's a difficult theological concept to explain.
Mary Spila
Palatine, Ill.
The exclusion of women from the priesthood. My children are surrounded by women of spirit and leadership.
Name withheld
Austin, Texas
Why bad things happen and God can't or doesn't seem to help or prevent them.
Name withheld
Pittsburgh, Pa.
I have been looking for materials to talk with my sons (ages 10, 13, and 15) about sexuality and relationships from a Catholic perspective. I have yet to come upon anything useful, more than "just wait until marriage."
Name withheld
Evanston, Ill.


I think the single best experience of faith my child has had so far is . . .
Going to Mass each week and being part of the parish community. My children have friends whom they look forward to seeing at church.
Mary Feeney
Vancouver, Wash.
Allowing God to help us weather the divorce from their father. Watching God supply some of our basic needs.
A. J. Goode
Green Cove Springs, Fla.
Seeing their grandfather care for their grandmother.
Patrick Morris
Brooklyn, N.Y.
Doing charity and justice work for others. It makes them realize they are not the center of the world.
Kathleen McGourty
Arlington Heights., Ill.
Hearing the exceptional priest in our parish deliver thoughtful sermons. My 15-year-old really listens.
Name withheld
Framingham, Mass.
Attending a mission trip with their youth group last summer to serve in an inner-city homeless shelter. They all returned obviously stronger in their faith. It was a life-changing event.
Susan Bernt
Kalispell, Mont.
Being able to serve at Mass.
Name withheld
Kutztown, Pa.
At their Catholic high school, my sons are getting the entire package—Creed, traditions, scripture, history, the importance of Mass, and how to live their faith.
Name withheld
St. Louis, Mo.
Preparing for their First Communion.
Darci O'Donnell
Lee's Summit, Mo.


Handing on the faith has changed my own faith because . . .
It is the number one reason I felt the need to come back to church. Having kids changed everything.
Maggie Merritt
Aptos, Calif.
It made me aware that they are always watching and they expect me to be a role model. I have to know my stuff.
Deacon Bob McMullen
Dover, Del.
It makes me dig deeper to develop my own faith so that I can pass it on.
Shelly Conlon
Iowa City, Iowa
I have learned a lot, especially about tolerance. Letting them go their own way is an adventure in faith.
Name withheld
Walled Lake, Mich.
I feel that we witness "small miracles" all the time, and I feel that the more I speak to them about our faith, the stronger my own faith constantly becomes.
Annmarie Nickdow
Lindenhurst, N.Y.
Praying with children allows you to pray with adults when you would ordinarily be embarrassed to do so. It doesn't matter what your dinner guests believe, your kids will insist on saying grace if that's what you've taught them to do.
Christine Way Skinner
Newmarket, Ontario


In passing on the faith, the most important responsibility of the parish is . . .
To be pastoral with parents. Work with them. Do not put up rules and regulations to prevent them from sharing their faith with their children.
Linda Price
Wichita Falls, Texas
Supporting parents and making good resources available. When parishes take over from parents (even when that is what many parents want), faith is not truly passed on because parents are not fully living or modeling their faith.
Name withheld
St. Paul, Minn.
Providing good solid ministry for all of our parishioners. I really think that we are missing an opportunity in the 18- to 35-year-old segment.
Kevin Collings
Springfield, Ill.
Being a supportive community. Our faith is radical and countercultural. We as a community stand as something other to our materialistic society.
Mary Ann Zeszutko
Niskayuna, N.Y.
To be a community that consistently bears witness at every level to the love and example of Jesus Christ. Young people recognize hypocrisy.
Name withheld
Stuart, Fla.
To celebrate the talents of teens and allow them to participate in weekend liturgies as lectors, eucharistic ministers, ushers, or musicians and choir members.
Rodger Keenan
Painted Post, N.Y.
To get public speaking skills for our priests. The No. 1 complaint from my kids and other young adults is that they repeat themselves, are boring, need to get to the point, and are monotone.
Irene Francis
Crown Point, Ind.
To be open to having young children at Sunday Mass, daily Mass, and eucharistic adoration. A living church has those little voices singing and praying right alongside the mature generations.
Karen Patton
Harker Heights, Texas
To get quality textbooks for religious education. The textbooks in my parish are awful, dry, and not reaching kids at the middle-school level.
Name withheld
Middletown, Md.


General Comments
I know I need to spend more time praying with my children. I need to talk to them about what it means to pray and why it helps.
Kathleen Roberts
Richmond, Va.
I just started small—one year adding in prayers before meals, one year doing a Jesse tree to add Bible reading into our home, each Lent trying to add something like saying the rosary as a family or going to Stations of the Cross.
Camille Hildebrandt
Woodbury, Minn.
I'm always teaching them, "Whatever happens, yes or no, praise the Lord." Once when I didn't get an item on sale and was grumbling about it, a voice piped up, "Whether it's yes or no, Mama, praise the Lord!"
Effie Cordeiro
Dollard-Des-Ormeaux, Quebec
When they were in elementary school, it was easy; but now that they are older, the questions and attitudes are much more difficult to deal with.
Bennie Parker
Lake City, Fla.
Find times to pass on the faith every day. I have a captive audience in the car, so we pray, talk about the "saint of the day," make gratitude lists, and intercede on behalf of others when we drive.
Name withheld
Pflugerville, Texas
A big temptation is thinking, "Look how holy I am. I bring all these children to Mass, and they behave pretty well." I have to remind myself that God judges by our interiors, not our exteriors.
Name withheld
Framingham, Mass.
My 7-year-old son asked me the other day if they "still made saints" because he is hoping to be one someday. I assured him that God calls all of us to be holy.
Beth Simmonds
Columbus, Ohio
All active news articles