Hold your fire!
Let's call a truce in the war on Christmas
To the barricades, patriots! Lock down the airports! Suspend the Constitution! Appropriate billions of dollars! Prepare a preemptive attack! The enemies, whoever they are, have launched a war on Christmas!

Here's the intel: This war, evidently, is being fought on two fronts. First, the pious pundits of fair and balanced cable TV news have determined that those nasty, unscrupulous, butt-dumplings of the liberal left have launched an anti-Christian attack on our most sacred holy day. And second, just as we've long suspected, the commercialization of Christmas has reached the tipping point. The regents of retail have tossed off all references to a Christian celebration in favor of generic holiday come-ons. They've taken Christ out of Christmas, and we want him put back!

Careful analysis of the political and commercial activity of this nefarious yuletide axis of evil has determined that they possess a growing arsenal of WCDs, Weapons of Christmas Destruction. And that they intend to use them on us, the unsuspecting coalition of Christian Americans who devoutly kneel, side by side with Santa, at the cradle on December 25.

Without an immediate and forceful response of shock and awe, Christmas will be lost and our Christian nation will sink into the winter darkness of secularism without the manger at the mall, without our blessed tree in the town square, and without "Silent Night" wafting through the halls of our public schools. These are the times that try men's souls. But united we will stand, and in God we will trust. Commence firing!

Wait! Stop! Hold your fire. This all sounds way too familiar. Is there a war on Christmas? Is the intelligence accurate? Are there really WCDs hidden in the political agenda of the liberal left and the retail strategy of commercial enterprise? I don't think so.

This whole war on Christmas business got started a couple of years ago with a book written by Fox News commentator John Gibson: The War on Christmas: How the Liberal Plot to Ban the Sacred Christian Holiday Is Worse Than You Thought (Sentinel). My brother, a brilliant entrepreneur and a Rush Limbaugh-listening, Fox News-watching Reaganista, was kind enough to send me a copy. Thanks, bro.

Now our Lord Jesus told me not to call anybody a fool. (Matthew 5:22. Of course, two chapters later in 7:26, he goes and calls the guy who built his house on sand a fool. Go figure.) So I'm going to play it safe and not call this guy Gibson a fool. But what an idiot!

Gibson spends 190 pages ranting about how the liberals won't let public schools and municipalities celebrate Christmas. He laments that school administrators have banished the word "Christmas" and have inserted "holiday" in its stead. With great umbrage he goes on about how the Christmas tree has been replaced by the holiday tree. He harumphs about how Christmas parades and Christmas parties have been tossed in favor of "holiday" versions of the same thing. He shrieks with righteous indignation because towns won't allow the crèche to be set up on public property or Christmas hymns to be sung in public school celebrations. He reasons that since Christmas is Christian, and since most Americans are Christian, American public institutions should celebrate Christmas.

This guy just doesn't have a clue. Here's the deal: I don't want some public school teacher telling our kids about Christmas. I certainly don't want some TV newsboy dictating the criteria for the Christmas celebration. He equates Christmas with a Scotch pine, for crying out loud.

And the crèche? Don't get me started. If we're going to do the crèche, then I want us to do it. I don't want the crèche retailers setting the scene for the birth of Christ. I've seen a lot of manger scenes, and frankly some of them give me the willies. Somehow the Holy Family in translucent plastic with a light bulb stuck up their insides doesn't celebrate the Incarnation of the living God for me. Last year I got a catalog of Christmas tchotchkes that featured a crèche with all the characters played by dogs. Dogs! The ox was a Lab, the ass was a Doberman, the shepherds were, well, shepherds; the sheep were poodles—even the baby Jesus was a schnauzer.

And I don't want religious hymns sung in public schools for the same reasons. Can I trust Ms. Fundy, the fourth-grade teacher, to explain to her class that the lines "Away in the manger, the poor baby wakes / But little Lord Jesus, no crying he makes" don't accurately reflect the humanity of Christ, who shares in our human suffering? (I would say that little Lord Jesus cried plenty if he shared my humanity.)

This is the same classroom, by the way, that introduces the possibility that God, under which this nation stands indivisible, somehow approves of such American institutions as abortion, the death penalty, and unjust wars of aggression. No thanks.

This is the reason we have a clear separation of church and state written into the Constitution. The government is no more competent teaching theology than I am teaching rocket science. We Catholics have one source of religious learning and that's the magisterium of the church. If it don't come from Rome, you don't take it home. Otherwise you're paying for your kids to get religion from whatever denomination du jour the teacher belongs. What do you suppose "The Church of What's Happening Now" has to say about the pope?

And as far as outrageous commercialization and taking the "X" out of Xmas subverting your kids' Christian understanding of the reason for the season, I've got this to say: that's why God gave them parents—to teach them the difference.

Expanding the seasonal market is a good business strategy in the American free economy. Jewish, Muslim, Hindu, Buddhist, and Baha'i bucks are as good as Christian cash any day. Besides, where would Christmas be without all the commercial hype? Subtract all the shopping frenzy, the incessant barrage of advertising, the sales, the greeting cards, the neighborhood display contests, the catalogs, the presidential tree, and Santa at the mall, and what do you get? Pentecost!

When's the last time you fretted over Pentecost shopping and getting your list of Pentecost gifts crossed off? When did you stay up half the night addressing Pentecost cards and baking Pentecost cookies? Have you ever enthralled your kids with stories of the Pentecost Dove coming down the chimney? No! That's why, no matter how hard we try, Pentecost is just another Sunday.

"Oh, Father, you look good in red." Um, it's Pentecost. "Oh? Well, red is your color. You ought to wear it more often."

And while we're at it, how come no one gets all weirded out about taking Mary out of the Solemnity of Mary, the Mother of God? January 1 comes around and what do we celebrate in our churches? New Year's! I've seen parish bulletins with bubbling champagne glasses, party hats, confetti and horns, and "Happy New Year" banners on the cover. And midnight Masses with the elevation of the host timed to the stroke of 12: What's up with that?

There is no war on Christmas, pilgrims. What we really need is a shopping season for Pentecost.
Father Paul Boudreau is a priest of the Diocese of Norwich, Connecticut and a freelance writer. He co-authored with Alice Camille The Forgiveness Book (ACTA Publications), due out January 2008. He serves Blessed Kateri Tekakwitha Parish in Banning, California.
Feedback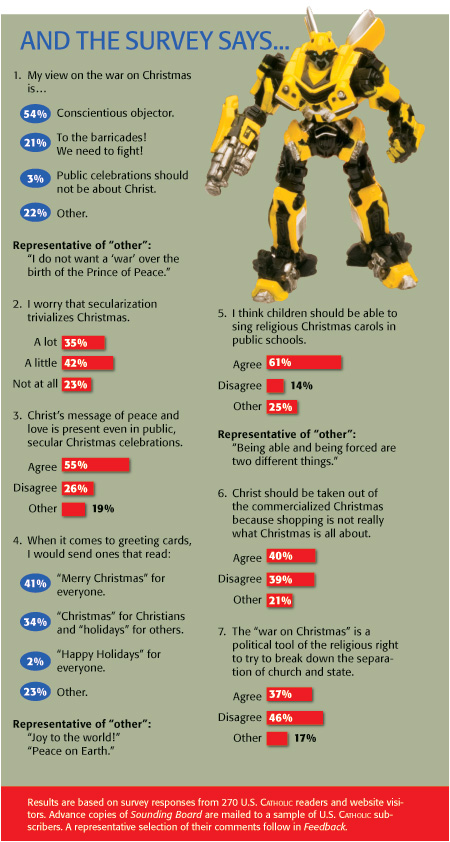 The worst example of American culture trying to secularize Christmas is . . .
Five minutes before Midnight Mass, our parish choir sang "Rudolph the Red-nosed Reindeer."
Bob Gude
Fort Worth, Texas
Scheduling football games on Christmas to capture an advertising audience.
Joseph Holmberg
Lebanon, Ore.
Obnoxious movies like Bad Santa that use Christmas as another means for gross-out satires and sleazy plots.
Daniel Matthews
Arnold, Md.
Purchasing cheap toys for children from countries that employ children who toil long hours to make them.
Marilyn Hummel
St. Louis, Mo.
The Air Force Association sending me a Christmas card sampler with one depicting B-17s flying through the winter sky.
Eric N. Johnson
Anacortes, Wash.
Deliver me forever from Santa kneeling at the manger!
Sally S. Hermsdorfer
Memphis, Tenn.
Incessant Christmas carols in nearly every store beginning two months before Christmas, which eventually makes me want to strangle the herald angels.
Frank Butler
North Wales, Pa.
Holiday parties that legitimize the excesses of the season.
Kathleen Bradley O'Bryan
Leawood, Kan.
Not allowing the free expression of beliefs in the public square. If 60 to 70 percent of the population claims Christianity in a democracy, why do we allow the other 30 percent to determine how we can be public about our faith?
David P. Stanton
New Brighton, Minn.
Last year I actually saw a store displaying baby Jesus in a manger with gift certificates in his hands!
Rosemary A. Bloise
Horseheads, N.Y.
The way the retail industry views Christmas as the ultimate boost to the economy, with daily news about the highs and lows of this season's consumer spending.
Karen Karn
Plymouth, Minn.
The cute-ifying of religious symbols like nativity scenes. Angels look more and more like fairies every year!
Name withheld
Desert Hot Springs, Calif.
What I think this so-called war on Christmas is really about is . . .
Trying to push Christianity down the throats of everyone.
Frances Goetz
Gladstone, Mich.
There may be a fear of losing Christian values, but if a public nativity set is all that is holding them in place, they're gone already.
Vivian Michals
New Orleans, La.
People being uncomfortable with immigration and changing cultural traditions. Christmas was commercialized in the 1950s, too, but conservatives didn't mind because nobody was making a fuss about Kwanzaa, Hanukkah, and Ramadan.
Colleen Newman
Great Bend, Kan.
People not fully grasping what it means to be a Christian. The people fighting this war are the same ones who do not support a better health care system.
Michael Q. Tubridy
Libertyville, Ill.
I think that there are some who desire a liberal, atheistic culture. Their ultimate goal is to make Jesus just another character like the Easter Bunny.
James Thamm
Charlotte, N.C.
I do wonder if some groups of people want to take God out of everything in the name of tolerance. They are not capable of being tolerant of Christianity.
Helen M. Wilcockson
St. Louis, Mo.
A complete misunderstanding of Christ's teachings. Apparently it's OK for people to spend hundreds or thousands of dollars on Christmas, but if the store clerk says "Happy Holidays" rather than "Merry Christmas," it's unforgivable.
Mark Deaton
Oak Park, Ill.
I do not buy into the war on Christmas anymore than I choose to buy into the commercialization of Christmas.
Tanya M. Stager
Ft. Mitchell, Ky.
The "war" is not the way to go about this. Instead I think Christians need to learn to invite secularists in without being so defensive.
Margaret A. Johnson
Luling, La.
People just take life too seriously. Christmas/holiday time is supposed to be happy and fun. If we spend all this time worrying, then it won't be either.
Amelia Betty Johnson
Baton Rouge, La.
I try to keep the Christ in Christmas by . . .
Simplifying the sheer number of "things to do" in December to focus my mind on Advent and Christmas.
Julie McCarty
Eagan, Minn.
I remember that Christmas is only one day of 365 to celebrate Jesus' goodness.
Imelda Smith
De Kalb, Ill.
Serving at our area homeless shelter during the holiday week and teaching my children the difference between celebration and excess.
Carolyn Jean Matthews
Arnold, Md.
Private prayer, making my granddaughter giggle, taking someone to church with me, staying positive, and not entertaining any Grinch-like attitudes.
Sharon McVary
Minnetonka, Minn.
Celebrating Advent when everyone else is out celebrating "Commercialmas."
Name withheld
Williamsburg, Ky.
Finding the perfect gift for those I love. Christ was a gift born into the world; each of my loved ones is also God's gift to me, and I rejoice in them.
A. Danby
Quincy, Mass.
I have told family members that their gift is being given to the St. Vincent DePaul Society for families who have signed up for the adopt-a-family Christmas program.
Jean Christiansen
Sun City, Ariz.
We always make sure to give Jesus a gift, as well as buy gifts for charities. And this year we are advertising Christ's birth with a large plastic light-up nativity! Woo hoo!
Kathy Shumac
Aaronsburg, Pa.
I am Eastern Orthodox. During the nativity season we greet each other with "Christ is born! Glorify him!" In their own way this is what all Christians should do.
Father George Morelli
La Costa, Calif.
My grown children know that Jesus is here because all are welcome at our home, whether they've joined a fundamentalist church, are gay, are alcoholic, or have a mental illness.
Kayrene C. Anderson
Lisle, Ill.
A brief, 30-second meditation two days after Christmas, when it occurs to me that something special might have happened and I almost missed it in all the sanctimonious noise.
David Pedergnana
Manhattan, Kan.
Celebrating Reconciliation.
Anne M. Goscenski
Battle Creek, Mich.
Spending tons of time with my whole family. The gifts are nice—let's face it, I am a poor college student!—but overall it is about being home from school and hanging out with the folks.
Amelia Betty Johnson
Baton Rouge, La.
The best way I've seen a parish respond to the secularization of Christmas is . . .
Welcome people into the parish whenever they attend Mass, even if it is just once or twice a year at Christmas and Easter.
Laura Briggs
Plymouth, Mass.
I don't think I've seen it happen. I had to beg my parish to have a Mass at Christmas just for children. How do they expect to keep kids at Mass if they aren't trying to reach out to them?
Eileen J. Oddo
White Plains, N.Y.
Have a short Mass so people can get home to their families.
Lucy F. Smedstad
Slidell, La.
A parish in England included with its outdoor nativity scene a replica of the "security wall" Israel has built in the West Bank. If the Holy Family were trying to enter Bethlehem today, they'd be blocked by concrete and razor wire.
Patricia Lynn Morrison
Miamisburg, Ohio
Our pastor puts up a crèche with a blinking star on top that flashes like a gas station light. I think we are as secular as any church I've seen. So I attend services at First Congregational and listen to one of their pastor's heartwarming and funny sermons. I actually leave having learned something.
Carolyn L. Berzins
Coventry, Conn.
General Comments
I don't want others forcing me to follow their religious practices, and I don't want to force mine on them. But I like to learn about what is special to others and wish they'd like to learn about what means a lot to me. Sharing makes for tolerance.
Timaree J. Cheney
Kingman, Ariz.
I think that so-called Christians who snarl at clerks for not saying "Merry Christmas" need an irony transplant.
Anne C. Nolan
St. Cloud, Minn.
One of our family's best Christmases was when we skipped it. Instead we took the family to visit our daughter in Africa and looked for Christ in a foreign land.
Susan Vogt
Covington, Ky.
Despite the commercialization, people still feel the need to connect with Christ on this day, as evidenced by the crowds who pack our churches.
Karen A. Conroy
Moon Township, Pa.
Maybe we should stop worrying about putting Christ in Christmas and try putting Christ in our world by ending global poverty, welcoming the immigrant to our country, improving health care for the poor, and ending genocide in Sudan.
Kathleen McGourty
Arlington Heights, Ill.
I have friends who despair that their children in public schools cannot have a "Christmas" party but who don't actually take them to church.
Name withheld
Vienna, Va.
I believe most people are really trying to keep a proper focus. I see a tremendous amount of good will and actual good in our parish and community at Christmas.
Father Kerry R. Ninemire
Salina, Kan.
I try not to allow Christmas to be disrupted by thoughts about how other people "should" be celebrating.
Caroline L. Fulkerson
West Seneca, N.Y.
We as parents need to keep the true meaning of Christmas alive in our children. We are the ones who decide what we buy to celebrate Christmas. We should teach our children from birth that the celebration of Christmas is at church, not at the mall or on vacation.
Maria Isabel Estrada
El Paso, Texas
If we Christians celebrated our religion as fervently as the Muslims in my neighborhood do, I think that we would see more people in church and less protesting about plastic crèches.
Mary Ann Thornton
Dearborn, Mich.
Why does Christ have to be all the way in something or else all the way out? Are we not sophisticated enough in our faith life to balance Christ and the shopping mall?
Jeanie Lewis
Chicago, Ill.
Those who want to fight the war on Christmas won't be happy until all of us are wandering around with grim faces. I propose a war on the fuddy duddies.
Deacon Patrick J. Whitcomb
Green Bay, Wis.
All active news articles