What do you get out of Mass?

Mary Lynn Hendrickson
NO DOUBT U.S. CATHOLIC READER C. WALL OF WOODSTOCK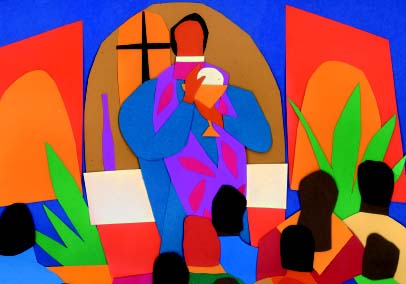 , Illinois speaks for many when she succinctly sums up what does and doesn't make for a good experience of the Mass. Good: "My family by my side, great homily, with a community I know." And the clinkers? "Poor, long, aimless homilies. Music I can't sing along with."
Add an abiding love for the Body of Christ—which tends to take the form of the Real Presence in older folks, the assembled community in younger folks—and you've got a fairly good snapshot of what nearly 300 survey respondents told us about their own Mass experience. In more ways than one, it's their own presence before the Body of Christ that saves the day for most parishioners—sustaining them in good times and bad, reassuring them in spite of crying kids, bad sound systems, and uninspired recitations of the rituals.
Which is about what you'd expect from a church claiming to be, in true Vatican II parlance, a "eucharistic people." Just as you would also expect to hear readers relate some of the unmistakable "signs of the times" that are challenging our church right now: everything from the exhausted displays of our priesthood shortage to the electronic beeping of pagers that signal the time-starved crowds.
But what you wouldn't expect, perhaps, is such a united uproar over liturgical music. Just what is it about today's harmonics that strikes such a sour note among typical parishioners, among both pew-sitters and choir members alike?
Church music: Too much of it, too little of it. Too old, too new. Too trite, too traditional. Faddish modern fare that can't compete with the timelessness of Gregorian chant. Musicians bent on performance rather than participation. All the distractions of having to stumble through yet another unfamiliar song when so many simply long for a little silence to let everything sink in. It's enough to make you wonder whether the maker of that famous saloon sign had Sunday mornings in mind when he wrote, "Don't shoot the piano player."



Singing praises of Vatican II
"Better hymns. I'd like to see less of the old standards," says Mary Gust of East Grand Forks, Minnesota. "Sometimes the music at funerals is more uplifting than at Sunday Mass," asserts Myra Condon of Shorewood, Illinois. Music, it seems, not only speaks at the level of emotion—the many emotions people have when it comes to either a thwarted or satisfied desire to sing out their differing expressions of faith—but, liturgically speaking, it's also the interstitial fluid that flows in and around all the other elements of the Mass.
If you're unhappy about the homily, you might just get over it by the time you stand in a Communion line. But any annoyance with the music is probably going to get you, coming and going, at the processional and recessional. And probably between the readings and during Communion, too.
And the survey says...
1. My favorite part of the Mass:
39% Receiving Communion
28% Coming together as a community to worship
14% Beauty of the music and rituals
10% The homily
8% The Bible readings
1% Other
2. What would greatly improve the quality of the Masses at my parish is:
"A warmer communal atmosphere. Most parishioners treat Mass like private prayer." Avril Marin of Mada-waska, Maine
"Familiar songs instead of a new, unknown one most every week." Jack and Pat Prusha of Dallas, Texas
"More variety in music." Diane Siegfried of Redwood Falls, Minnesota
"People treating it as an act of love, not an obligation." Carol McCarron of North Adams, Massachusetts
"Priests who bring spirituality and meaningfulness to Mass, not just a recitation of words." Jim Styer of Battle Creek, Michigan
"More pauses for prayer and reflection." Tavia DeFelice of Lansing, Illinois
Three most common answers, in order: (1) Good variety of music that congregation can easily sing along with; (2) More spirited participation by priest and people; (3) More pauses for quiet reflection.
3. Compared to when I was young, one of the ways Mass has changed for the better is:
"It is more 'Jesus and we' instead of 'Jesus and me'!" Kathy White of Waldorf, Maryland
"English! I enjoy and miss Latin, but English is better." Tom Botts of San Jose, California
"The inclusion of the Blood of Christ at Mass now." Mrs. Dale I. Evans, Lost Hills, California
"Better quality music. There is less emphasis on the folksy music popular in the mid-'70s, when I was young." M.G. Matthews of St. Louis, Missouri
"More family-oriented." Janet P.D. D'Urso of Newport News, Virginia
"I think it's great that they allow girls as servers now. I was always disappointed that I wasn't able to be one!" Jennifer Williams of Sterling, Illinois
"In our church, having the altar in the center, surrounded by the congregation." Thelma West of Hayward, California
"The change is in me. I go because I want to be there." Brian Ward of Aurora, Colorado
Three most common answers, in order: (1) Laypeople included in worship; (2) Language in the vern-acular; (3) Laypeople as ministers.
4. Compared to when I was young, one of the ways I think Mass has changed for the worse is:
"Sometimes it's too community-oriented, with no silent time at all." Deborah Barton, Las Vegas, Nevada.
"We're forever being asked to give money for one cause or another." Mary Gust of East Grand Forks, Minnesota
"I can't think of a single way that it's worse now." Carol Halstead of Huber Heights, Ohio
"Parents allowing children to eat in church, people not dressing respectfully." Barbara Matthews of Pittsburgh, Pennsylvania
"We've begun to regress to some pre-Vatican II activities, like singing Latin responses. I don't understand any of it!" Kathy Saile of Phoenix, Arizona
"Church politics affecting a sense of community." Bill Selak of Grover Beach, California
"Loss of rituals that were done slowly and contemplatively." Sister Christina Bernal, P.P. of San Francisco, California.
Three most common answers, in order: (1) It hasn't! (2) Loss of reverence, too casual; (3) Not enough silence.
5. Going to Mass always satisfies my hunger for:
"Finding God in my life and in my neighbor." Alice Zoda of St. Charles, Illinois
"Soul food--the Eucharist." Bonnie Quimby of Stevens Point, Wisconsin
"The opportunity to be with Christ in community, word, and sacrament." Francis LaVigne of Massena, New York
"Touching base with the Lord." Anne Denman of Desloge, Missouri
6. The biggest mistake that priests or liturgy planners make about the Mass is:
"Thinking it belongs to them." Father Brian Saylor of Altoona, Pennsylvania.
"Using the same people to help with Mass week after week, year after year. Not asking parishioners to write petitions." Mila Manley of Chicago, Illinois.
"Too many words that do not underpin prayer but rather distract." James O'Connell of Ilkley, United Kingdom
"Not offering or training more lay ministers." Rita Furqueron of Joshua Tree, California
"Thinking we aren't spiritually hungry. Let's sing all the song's verses. Let's have ample time to pause and reflect where appropriate. Don't talk down to us--give us some good theological material to chew on." Sara Zimmer of Duluth, Minnesota
Three most common answers, in order: (1) Planning according to their tastes and education level, not the congregation's; (2) Making worship too "busy"; (3) Not inviting more lay participation.
But the main chorus on this subject seems to echo a wider concern Catholics have in the wake of Vatican II.
Consider how, for average Catholics, the most celebrated innovation of the Second Vatican Council has been the invitation for them to participate in the Mass.
"There's a feeling of being a worshiping community instead of watching the priest go up there with his back to us and praying in Latin," remember Ted and Helen Johnson of San Josť, California. "It's like the priest was up there 'performing' on a stage and we were only there as an audience," agrees a reader from Kentucky.
Then, consider how music that's just too removed from the congregation might just as well be in inaccessible Latin as in the vernacular. Jeff Austin of Marshfield, Wisconsin was one of many who sang the blues on this subject. According to Austin, the biggest mistake liturgy planners make is "choosing music that cannot be sung by ordinary people. Music for musicians is nice, but if people are going to participate, then it must be kept simple and familiar."
If people participate? According to our survey, most Massgoers expect to participate, and get peeved when they can't. Or when the musicians take center stage instead of the worshiping community.
Doris Ulrick of Camden, New York gets annoyed with "the choir performing up front, like a stage show." And it bothers James Gossman of Greeley, Colorado enough that he'd like to see "congregational singing with little or no accompaniment--no 'performances' by the choir."
A similar effect happens when planners constantly add new songs to the parish's repertoire, imagining that it's the best bet for staving off boredom. But for everyone who isn't as rehearsed as the parish choir, it's just one more instance of being unable to participate fully in worship.
A Maryland reader was one of several who lamented the "use of so much unfamiliar music. It's tough to sing new songs almost monthly, if not weekly." For Jim Jordan of Santee, California, it's the aggravation of "hardly ever having the same hymns sung twice."



Beauty and the busy
Russ Anton of Oscoda, Michigan seems to speak for many who responded to this survey. "Sometimes I get the feeling that there is some Madison Avenue ad man working with the Catholic Church to keep the Mass 'relevant' and interesting. I don't need that. It's a special opportunity for me to be close to God; it doesn't need either improvement or continuous changes. During the various parts of the Mass, I prefer my focus to be on the significance of that particular part, not on learning or reading a new singing response. All this emphasis on external, observable participation ignores and often detracts from the participation that to me is more important—what's going on in your heart and mind."
Pat Ruggaber of Wheaton, Illinois tends to agree. "There's too much 'busyness.' The Mass is a beautiful prayer in and of itself. In an effort to make it entertaining as well, we lose the beauty in the distractions."
This is where music ministers should sit up and take note. Even though some people said they grew tired of too many "old standards," some of the oldest standards are truly beautiful and can cast a transcendent effect if used as part of a good musical mix. Such as chant. Sister Mary Kenan McGowan, R.S.M. of Grafton, New York joined countless others in "missing some of the grand and beautiful music of the past, such as Gregorian chant and two- and three-part harmony."
"As much as I love the vernacular, I am saddened by the loss of chant," agrees a Colorado reader.
But as William and Mary Shea of Sonoma, California caution, the longing for such traditional touches "does not mean a longing for the old ways" but means, rather, mining the richness of our past, such as the beauty it has held.
Massgoers are simply hungry for more beauty. Vicki Markwell of West Chester, Ohio really misses "the stained glass, bells, and incense. We have a cross, not a crucifix." Jerry Mazenko of Garden Grove, California regrets that there are "no High Masses, no Solemn High Masses, much less pomp and circumstance."
But beauty lies in simplicity, too, our readers seem to indicate, many of whom expressed a weariness with not only music and rituals that were overwrought, but church decoration as well. "We seem to have lost 'Low Masses,'" notes Dennis Winkelsas of Norfolk, Virginia. "Do we really need to sing everything like we're in a participatory musical or opera?"
What could be more simple than silence? It is the antithesis of busyness, after all. Florence Murphy of Warren, Michigan, yearns for "an opportunity for quiet reflection after Communion." Trudy Cranston of Westmont, New Jersey, like many U.S. Catholic readers, laments that liturgists "plan for very little quiet time."



Signs of the times
So imagine how up in arms Massgoers get when what little quiet there is gets pierced by the electronic trill of pagers and cell phones. Yet, according to survey results, this is a growing reality in many parishes. And it's more than simply an assault on the ears, say respondents; it's a clear sign that there's been a diminishing sense of reverence on the part of contemporary worshipers—the number one way, they say, that the Mass has changed for the worse over the years.
J.B. Badgett of Louisville, Kentucky includes "cell phones and pagers, tardiness and leaving early" as part of his modern-day litany of casualness and disrespect. "Beachwear, shorts, T-shirts, and halter tops are now common, too." While casual or downright sloppy attire tops the list of disrespectful behaviors—along with the other quiet-shattering habit of too much casual talking in church—late arrivals and early departures are seen not only as disrespectful but as disruptive.
"The basic problem is that only one third of Catholics attend Mass regularly, and of those who do attend, one third leave immediately after Communion," says Norman Leister of Doylestown, Pennsylvania.
To hear readers tell it, it might well be all those "extras" making Mass too busy that also has worshipers ducking out early.
"Too many announcements about the parish, in general, during weekend Mass" tests the patience of Kathryn Pray of Palmyra, New York. "It makes Mass time too long." Another half-amused reader notes that sung responses to highlight the scripture readings can sometimes be longer than the readings themselves. And one priest respondent added that the single biggest mistake liturgical planners make is "not being sensitive to time issues"—one of the few complaints that seemed to run along gender lines, by the way, with men reporting more dissatisfaction with drawn-out Masses than women. It's something for parishes to ponder, perhaps, if they're looking for ways to increase male participation.
But in this day and age, it's not just overworked double-income parents who feel the crunch of having too little time to spare on their shrinking weekends. Probably nobody is as time-starved on Sundays as today's parish priests.
"I've heard an overworked priest say, 'This is my sixth Mass this weekend; there's no way I can participate fully and consciously,'" says Bill Selak of Grover Beach, California. For countless parishioners, this is probably the most common manifestation of today's priest shortage. But for others, it is also a clarion call to realize more fully the legacy of lay participation that's the inheritance of Vatican II.



The new rite to participate
Catholics who are 45 and older have witnessed a revolution in their lifetime, and they know it, and it's been no less a "people's revolution" than the one that put Cory Aquino into power in the Philippines nearly two decades ago. Forget where you were when the Berlin Wall came tumbling down: What was it like to experience your first Mass in English?
Shirley Noel of Northbridge, Massachusetts remembers the overall transformation in very concrete terms. "The priest faced the altar, the altar rails were taken down, and we all became closer with God as our center."
"More of a sense of Christ in community," is what Peggy Ligon of Fairfax, Virginia reports, quickly adding that by-now-famous Vatican II victory slogan, "We are the church!"
The magic behind this shift? "Mass in the vernacular. It now has a meaning for me and my husband that is far beyond that of our youth. Hearing the gospel message in community involves conversion of heart," says Betty Leslie of Woodstock, Illinois. Add to that the deceptively simple act of moving around the "furniture"— turning around the altar and taking down the communion rail that separated priest from parishioners—and you have the revolutionary beginnings of a people ready and willing to feel at home in God's house. And according to many U.S. Catholic readers, there's simply no going back. "How has Mass changed for the worse? Worse? No way!" proclaims James J. Marshall of Barrington, Rhode Island.
"Nothing. I love the new Mass!" adds Marian Menapace of Lake Ariel, Pennsylvania. Insists Barbara Schveidler of Wauwatosa, Wisconsin: "I don't think the Mass has changed for the worse. The changes have all been for the good of all the people of God."
Little wonder, then, that the "trinity" of vernacular, the priest facing forward, and laypeople assuming roles on the altar—referred to, by most, as simply "more lay participation"—topped people's list of how Mass has changed for the better.
Talk about better: let's conclude with three stories that couldn't have been told 50 years ago.
"My best experience generally is as a lector, when I feel the sense and meaning of the words I proclaim. I am filled with a sense of the power of God's word and feel that I am truly in the moment with the community of worshipers," says Dennis Courtney of Glassboro, New Jersey.
"My best Mass experience is always serving as a eucharistic minister and watching all types of hands reaching out to receive our Lord," says Lois Hennessy of Eustis, Florida.
"The most memorable experience for me was hearing my daughter, who has a master of divinity degree, preach a homily. I was so proud of her," says Mary Hayes of Albany, New York.
Mary Lynn Hendrickson is associate editor of U.S. Catholic.

Memorable Mass experiences
Participation, please!
"Priests, both then and now, are not good preachers," asserts Mary Bosch of Columbia, Missouri. But she faults the laity, too. "I'm always amazed that Catholics don't know what Catholics believe. They don't make the slightest effort to educate themselves about their faith. They don't get that the faithful are the church—not the pope or the cardinals or the bishops."
"The lack of full, active, conscious participation among many worshipers saddens me," says Mary Brouillard of Stewartville, Minnesota. "There should be such a sense of excitement in the privilege to worship—and there isn't, for many."
Ann Jessup of Glendale, Arizona—herself a music minister—has little patience for liturgical leaders who end up "being 'above' the community, using too much shoptalk. What the heck is a 'fractioning ritual'?" But she really gets fed up with those who are "disdainful of the person in the pew who is not as liturgically educated.

"One Palm Sunday, the pastor said he liked to 'laugh at people who came for 5:30 Mass on the Saturday before Easter,' because they didn't know that there was 'not a 5:30 Mass anywhere on the planet.' We left that parish that week."
What has peeved other parishioners:
"Not including people enough in the terminology used, or explaining how both Old and New Testament texts are used."Mary Ann Nagy, St. Pete Beach, Florida
"Authoritarian pastor who consistently spoke down to people and shared endless personal comments throughout the liturgy."
Jim Jordan, Santee, California
"When, during the homily, the priest comes to the most important point, he often garbles the punchline."
Simon Driesen, Darlington, Maryland
"I was on my parish liturgy committee for 10 years. This can be a very frustrating experience when what you have learned through reading, workshops, etc. is not what your pastor declares will be."
Carol Halstead, Huber Heights, Ohio
"Not allowing people to participate in the process, who have expressed a genuine interest. Our pastor hand-picks all lectors and eucharistic ministers. Gifts are brought from a side table by altar servers, not by a family."
M.G. Matthews, Saint Louis, Missouri
"We don't plan. Father likes to be spontaneous and not have to answer to a liturgy committee." Lois Hennessy, Eustis, Florida
"Unlike when you are a child in Catholic school, it seems somewhat difficult to be directly involved in Mass these days. Most helpers are firmly entrenched in their duties."
Mila Manley, Chicago, Illinois
"The biggest mistake liturgists and presiders make is thinking they're there to entertain or lead. (Part of this is that's what the assembly expects.) The best Mass I was ever at was held at the Nevada Nuclear Test Site. The presider did just that—presided, kind of like an orchestra conductor. The setting was extraordinarily powerful!" Kathy Saile, Phoenix, Arizona
My best experience...
"Many years ago, when my husband was directing a summer camp for inner-city kids, we had a Mass in a woods with large pine trees at twilight. It was breathtaking, and I have never been so aware of God's beauty and peace. No church we could build could display the wonder and beauty I experienced."
Mary Formica, Harrisburg, Pennsylvania
"When I was in college, we used to sing the Our Father. We would all hold hands and sing it together. There was not one time that I didn't feel the Spirit of God within me! It is something that I only feel there. When we sing, I know He is there!"
Albert Stroble, Philadelphia, Pennsylvania
"I was received into the Catholic Church at the Easter Vigil in 1999. The Mass for me is my heaven on earth. The presence of God in my life is manifested to me in a powerful and real way when I am at Mass. The Eucharist is the sustenance that keeps me focused on Christ in every aspect of my life."
Mimi Koch, Fresno, California
"When I go to Mass at a monastery and it is slow—no hurry—with a blend of modern and traditional music." Tom Botts, San Jose, California
"One of the best experiences is simply to have greeters as we come into our church. After Mass, the priests talk to us and shake our hands."
Linda Isola, Modesto, California
"The most meaningful Masses I have attended are small groups, such as at Marriage Encounter gatherings where everyone is invited to gather around the altar." Maurice Poiter, Granite City, Illinois
My worst experience...
"We had a crabby old pastor at our parish when our children were quite young. After listening to his tirades at a Sunday Mass, one of my children asked why God yells at us on Sundays. Since we had emphasized the love of God to our children, we began attending a neighboring parish."
Pat Ruggaber, Wheaton, Illinois

"As one of the first female lectors in a then-conservative parish, I was frightened by the open hostility I saw as I looked down on the congregation—mostly men—with scowls on their faces and arms folded across their chests. It was 20 years ago, but I still remember."
Jean Merrima, Chincilla, Pennsylvania
"I attended a Mass at which the homilist said, 'Obedience is the essence of Catholic Christianity.'"
Sister Rita M. Hickey, O.S.C., New Orleans, Louisiana
"I can see someone at daily Mass for six months, but they act as if we're total strangers when we see each other at the supermarket."
Nick St. Amant, Glyndon, Maryland
"Since Mass for me is centered on the Eucharist, there can only be bad homilies—of which there are quite a few."
Mike Berman, Palm Coast, Florida
"Whenever I go to Mass somewhere to celebrate the Lord and it seems as if I am at a funeral because the music is too slow and depressing and the priest is not hope-filled, or is very negative, or just asks for money."
Cynthia Ballantyne, Harper Woods, Michigan
"For me, being Catholic is more about being part of a faith tradition and community—about having others to share the spiritual journey with—than about showing up at church on Sunday morning to spend an hour being bored to death."
Karen Hawkins, Euclid, Ohio
My amusing experience...
"When a person blocks a pew and then makes faces when he has to let you in. Then, you have to shake hands with him."
Name withheld, Venice, Florida
"A missionary priest was visiting my parish on Mission Sunday, and his enthusiasm was a bit overwhelming. After each reading, he would say, 'Now, let's give our lector a round of applause.' When I approached the altar as a Eucharistic Minister, he announced 'And one more round of applause for our eucharistic minister.'"
Trudy Cranston, Westmont, New Jersey
For me, the most significant words of the entire Mass are...
"'Take and eat, all of you.' Though we profess inclusiveness, we turn away many who don't have the proper 'credentials.' Isn't that what Jesus was against?"
Mary Janell Graham of Danville, Illinois
"Pat, the Body of Christ."
Patricia McDunn of Mountain View, Arizona
"This is my Body.This is my Blood." These words mean that I am in community with all of my brethren as I stand in that community. The words make a profound statement of my commitment to love, as Christ loved."
Catharine Kopac of Clifton, Virginia
Top five responses, in order:
(1) "This is my Body....This is my Blood." Or, as simply put by many readers, "The words of consecration."
(2) Entire Eucharistic prayer.
(3)"Through Him, with Him, in Him, in the unity of the Holy Spirit, all glory and honor is yours..."
(4) "Go peace to love and serve the Lord."
(5) "Peace be with you."
All active news articles