Oh, the Places You'll Go

Mary Lynn Hendrickson
ONE OF THE BIGGEST TRACKABLE TRENDS OVER THE PAST 10 YEARS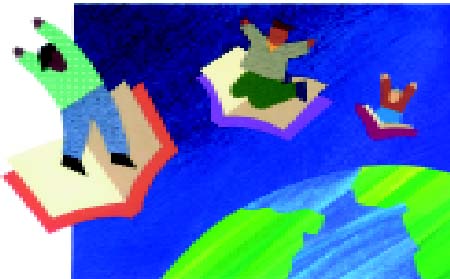 has been the burgeoning religious reality of baby boomers: not only have boomers fueled the recent "spirituality craze" that has Gary Zukav bearing his many incarnations of Seat of the Soul on Oprah, but they have refused to practice Christianity As Usual.
Which has left their children in an interesting spot. Some culture watchers have told religious publishers to be on the lookout for another baby boom: the children's book boom created by boomers having kids a little later in life—and wanting to pass their newfound spirituality on to their progeny. Boomers who were snapping up titles like Cloister Walk and Chicken Soup for the Soul, it was thought, would soon be on the lookout for kiddie counterparts like A Walk Through My Church and Chicken Soup for the Children's Soul.
But a recent sampling of U.S. Catholic readers shows it's unclear whether this children's book boom has come to pass. It was striking to note among our middle-aged readers the scattering of those who declared "I never give kids' religious books as gifts!" and those who quietly listed as meaningful many more secular books than religious.
A common complaint against the more traditional religious books for children was "moralizing stories," to quote a reader from Virginia. And in most "Lives of the Saints" for kids, Christine Way Skinner of Newmarket, Ontario finds "the art kitschy and the stories way too pious."
Even more striking, however, were the sheer number of readers who left the "favorite religious book" sections of their survey blank, saying, in the words of one reader, "Please help! This is exactly what I would love to find out!"
Complaints about bad art, a moralizing tone, or an unawareness of quality titles seem to indicate one of two things: either such readers haven't seen many newer religious books for children—or religious publishers haven't done their homework, either about boomers' tastes or about the basic elements that make for great children's books.
Which, in turn, leaves grandparents in an interesting spot. Just as the boomers' unconventional dallying with religion has left a generation of grandparents wondering whether their grandchildren will ever know the regularity of Sunday Mass and the celebration of sacraments, many U.S. Catholic readers help fill the faith gap by being major purchasers of religious books for their grandkids.
"When our youngest grew out of the children's section, I missed it," says Mary Stattelman of Clear Lake, Iowa. "Now our grandchildren are loving the same experience, and I enjoy being a part of their explorations."
And U.S. Catholic grandparents aren't exactly an old-fashioned or kitschy bunch. Big fans of C.S. Lewis' Narnia Chonicles and Madeleine L'Engle's quartet of books that include A Wrinkle in Time, U.S. Catholic's more senior crowd are among the first to find merit in the magical world of Harry Potter.



The magical mystery tour
Readers who don't know their history might be scratching their heads over the current runaway popularity of J.K. Rowling's Harry Potter series. Even more curious to some, perhaps, is that while certain Christian believers want the books banned for their inferences to witchcraft, others are buying them precisely for good, upstanding values.

Carolyn Frei of Lewiston, Idaho loves to give Harry Potter books as gifts, saying "they have adventure, plus morality and humor." And to Jean Hess of Herald, California, the Harry Potter books "are great escapes and good for shared reading between kids and adults."
But a Virginia reader captures the real magic of the series—as well as the secret to the enduring love of the Narnia Chronicles and L'Engle's adventures of the Murray family. "They're about as perfect as a story can get and capture the imagination in unforgettable ways."
Not that there's anything wrong with plain ol' magic, either. Indeed, Kerry Marsh of Coventry, Connecticut likes to give the "magical fantasy books I loved as a young child"—as well as "good, original fairy tales, such as Grimms"—for what she calls their "psychological usefulness" and "use of enchantment"—qualities noted in recent years by thinkers that range from child psychologist Bruno Bettelheim to Joseph Campbell.
But most readers have a special soft spot for C.S. Lewis' Chronicles of Narnia. "They are about Christian living without being dogmatic," says John Raposo of Swansea, Massachusetts. Kathleen O'Bryan of Prairie Village, Kansas likes to recommend the Narnia Chronicles because "they base fantasy in God." Christine Stark Purcell of Coolville, Ohio especially adores The Lion, the Witch, and the Wardrobe, "because it's a wonderful allegory of the Christian life and Jesus' (as Aslan the Lion) death and Resurrection."



Ordinary Dick and Jane
But it's not the magical element of L'Engle's "Time Quartet"—A Wrinkle in Time, Swiftly Tilting Planet, A Wind in the Door, and Many Waters—that has impressed Shirley Howe of Shamong, New Jersey over the years. Rather, it's that they are "stories of thinking, intelligent children making decisions based on care for each other" and "stimulating moral decisions."
Qualities, no doubt, that helped A Wrinkle in Time net the coveted Newbery Award in 1963—and qualities readers consider meaningful and spiritual that can also be found in some very "ordinary" children's books.
And the survey says...
Of children's books that are not explicitly religious, I find these especially meaningful and like to give them as gifts. Top 15 responses:
Harry Potter books by J.K. Rowling
Books by Dr. Seuss
The Little Engine that Could by Watty Piper
The Giving Tree by Shel Silverstein
Little House books by L. Ingalls Wilder
Books by Madeleine L'Engle
The Secret Garden by F. Hodgson Burnett
Chronicles of Narnia by C.S. Lewis
The Velveteen Rabbit by M.W. Bianco
Ferdinand the Bull by Munro Leaf
Books by Beverly Cleary
Children's Garden of Verses by R.L. Stevenson
Goodnight Moon by M. Wise Brown
Charlotte's Web by E. B. White
Stellaluna by Cannon & Cannon
Of children's books that are religious, I like to give the following as gifts. Top 15 responses:
Illustrated Bibles and Bible stories
Stories of saints (especially by Tomie de Paola or about Saint Francis)
Prayer books, especially in rhyme
The Littlest Angel by Charles Tazewell
Chronicles of Narnia by C.S. Lewis
The Tale of Three Trees by Hunt & Jonke
A Peek into My Church by Goody, Kelly, & Pruitt
Old Turtle and Grandad's Prayers of the Earth by Douglas Wood
God's Paintbrush by S. Eisenberg Sasso
You Are Special by Lucado & Martinez
The Nativity by Julie Vivas
Keeping Quilt by Patricia Polacco
Amahl and the Night Visitors by Gian Carlo Menotti
Who Made Me? by Tulloch & Felstead
Prayer for a Child by Field & Jones (Caldecott Medal)
Books about the courage to stand up for what is right:
The Giver by Lois Lowry (Newbery Award)
Shades of Gray by Carolyn Reeder
Nobody Listens to Andrew by Elizabeth Guilfoile
Sarah, Plain and Tall by Patricia MacLachlan (Newbery Award)
Maniac Magee by Jerry Spinelli (Newbery Award)
Across Five Aprils by Irene Hunt (Newbery Honor)
Are You There God? It's Me, Margaret by Judy Blume
To Kill a Mockingbird by Harper Lee
Robin Hood, art by N.C. Wyeth
The Children's Book of Heroes by William J. Bennett
Books about cooperation and respect:
Frog and Toad Are Friends by A. Lobel
God in Between by S. Eisenberg Sasso
The Very Persistent Gappers of Frip by George Saunders
Angel Child, Dragon Child by Michele Maria Surat
The Best Christmas Pageant Ever by Barbara Robinson
Fergie the Frog books by Nancy Cocks
The Wicked Kings of Bloon by Steven Kellogg
The Secret Garden by F. Hodgson Burnett
Little Women by Louisa May Alcott
Books about the love and nature of God:
The Clown of God by Tomie de Paola
The Giving Tree by Shel Silverstein
The Runaway Bunny by M. Wise Brown
Designed by God, So I Must Be Special by Bonnie L. Sose
I'd Choose You! by John T. Trent
Because I Love You by Max Lucado
Old Turtle by Douglas Wood
God's Quiet Things by Nancy Sweetland
I Want To Know About God by Rick Osborne
Does God Know How to Tie Shoes? by N. White Carlstrom
Bibles for young children:
The Children's Illustrated Bible by Hastings & Thomas
Beginner's Bible by Henley & Davis
The Rhyme Bible Storybook for Toddlers by Sattgast & Goffe
The Beginners Bible for Toddlers by D. Brooks Dalby
The Bible in Pictures for Little Eyes by K.N. Taylor
Prayer books:
A Child's Book of Prayers by Michael Hague
I Can Pray About Anything! by M. Terese Donze
Every Tiny Grain of Sand: A Child's Book of Prayers and Praise by Lindbergh et al.
My Book of Bedtime Prayers by Paul Wilkes
Prayers, Praises, and Thanksgivings by Stoddard & Isadora
Tom Whitman of Erie, Pennsylvania joins many U.S. Catholic readers in loving The Giving Tree by Shel Silverstein, saying it "explains sharing in simple terms" and is a "great story." A reader from Massachusetts likes another enduring classic, The Velveteen Rabbit "because it teaches agape."
A reader from Connecticut prefers Cat in the Hat, Horton Hears a Who, and other Dr. Seuss classics over religious books any day, she says, for "fabulous messages that are subversive or teach important values without any preaching." Another heralded The Secret Garden for similar reasons: "Children forming their own values of goodness to others."
Betsy Dalton of Summerville, South Carolina praises two well-known kids books: Stellaluna by Janell and Jewell Cannon because "it shows the joys of welcoming an outsider" and The Rainbow Fish by Marcus Pfister because of its "excellent illustration of putting neighbor before self."
Dalton also joins many readers in hailing E.B. White's Charlotte's Web as the most significant book she recalls from childhood. As Linda Shepard of Mission Viejo, California puts it, Charlotte's Web "expresses kindness and self-sacrifice."
An equally significant book from readers' childhoods was Heidi by Johanna Spyri. An Idaho reader adored Heidi for its "love of family's older members and its portrayal of simple life." It's also an example of the kind of historical fiction many grandparents say they cherish for young ones, from classics—like the Little House books by Laura Ingalls Wilder, Anne of Green Gables by Lucy Maud Montgomery, and Little Women by Louisa May Alcott—to contemporary counterparts like Katherine Paterson's Lyddie and a spate of American Girl books.
Curiously, even kid classic Curious George contains an important spiritual lesson for kids, insists a California reader: "Kids get into trouble and have difficulty controlling themselves, but they're still good kids."



The greatest stories ever told
But, as that famous line from Ecclesiastes points out, for everything there is a season—including a season to give gifts for special religious occasions, especially Baptisms, First Communions, and Confirmations. At times like these, a majority of readers feel it's important to give books that are specifically religious—particularly Bibles and collections of Bible stories, followed a distant second by books about saints and sacraments, then third, books about prayer.
From a New Jersey reader comes praise for God Speaks to Us in Water Stories by Getty-Sullivan and Antkowski, which makes a "wonderful Baptism gift." Another reader favors On the Day You Were Born by Debra Frasier (which won a Parents' Choice Award for its illustrations) and Nussbaum and Jarrett's beautifully illustrated Winter Saints: Stories for the Days of Advent and Christmas.
Not to be outdone, in fact, is that most holy season of Christmas—which, according to readers' lists of favorite books to give children, is the single most significant religious season worth celebrating with kids. A clear favorite for readers is The Nativity by Julie Vivas, one saying, "The art is phenomenal. It is the most honest and playful depiction of the holy family I've ever seen."
And what about those Bibles? While store shelves are crammed with a dizzying array of offerings, old and new, classy and kitschy—and all of them with titles sounding too much alike—U.S. Catholic readers can, nonetheless, recommend a few favorites. Topping the list, from the Dorling-Kindersly family of pictorial reference books, is The Illustrated Children's Bible. Says Donna Davis of Hartwood, Virginia: "It's important to see as well as hear about God and Bible times."
A favorite for younger eyes and ears is the whimsical Rhyme Bible and Rhyme Bible Storybook for Toddlers by Sattgast and Goffe. Slightly older children will delight in the visual feast provided by two well-known illustrators of children's contemporary religious books: Philip Turner's The Bible Story—art by Brian Wildsmith— and Tomie de Paola's Book of Bible Stories.
Also notable for the younger set, since kids are notorious for their love of animals, are a boatload of stories about Noah's ark. The best of the best, say readers and reviewers alike include Noah's Ark by Janisch and Zwerger, Caldecott Medalist Noah's Ark by Peter Spier ("outstanding pictures," raves Sister M. Thomas Magee, P.B.V.M), and Why Noah Chose the Dove by Isaac Bashevis Singer and illustrated by the ever-popular Eric Carle.
A famous Bible verse takes centerstage in The Shepherd's Song by Julia Miner, which Mary Helmer of Spokane, Washington calls "an exquisite representation of the 23rd psalm." A critically acclaimed rendering of the same psalm, bringing in contemporary images of the inner city, is Psalm Twenty-Three by Tim Ladwig.
But by no means does the Bible corner the market on "greatest stories ever told." Consider two of today's favorite authors of children's religious fiction, Max Lucado (You Are Special, Because I Love You, and Just the Way You Are) and Patricia Polacco (Keeping Quilt, Chicken Sunday, and Mrs. Katz and Tush).
Lucado and Polacco's kids' tales are so popular, in fact, that they have also been purchased for those devoted grown-ups who make up their young-at-heart reading audience. In so doing, they help continue a time-honored tradition as old as The Giving Tree and The Little Prince. As Kerry Marsh from Connecticut insists, "Some kids' books are best appreciated by adults."
Mary Lynn Hendrickson is associate editor of U.S. Catholic.
All active news articles