8 ways to teach your young kids about God
It doesn't take a theologian to explain the foundations of our faith to the next generation. You--yes, you!--have all you need to get started now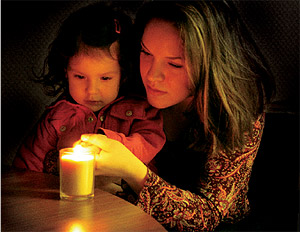 REX REMPEL OF KIRKLAND, Washington sat on the couch with his 2-year-old son, Sam, looking at the photographs in a copy of National Geographic magazine. He and Sam eventually flipped to a page with a large picture of an Iranian man dressed in his country's traditional garb. The man was praying intently. His eyes were closed, and his arms stretched out in front of him, palms up.
According to Rempel, Sam immediately pointed to the picture and asked what the man was doing.
"I tried to explain to him that the man was praying," Rempel says. "And then all of a sudden Sam wanted to pray that way." So he decided to seize the moment to show Sam how to pray with his hands folded. "That was very exciting to him, and we said the words, 'Here's the church, here's the steeple'...maybe all of this planted a seed toward learning the idea that people pray in different ways, and it's OK."
In Rempel's case, a quiet father-son moment on the sofa with a familiar magazine led to a meaningful conversation about hands and prayer. Who knew that National Geographic could be a source of spiritual wisdom passed from parent to child?
Thankfully it is often the mundane, everyday things--like a picture in a magazine or a hand gesture--that can teach small children important lessons about God. With a little bit of extra attention and intention, something simple takes on a spiritual dimension.
This is good news for busy parents. You don't need to be a biblical scholar or a holy roller to teach your kids how to relate to God. You have all the raw materials you need right now, probably right there in your living room, on your person, and in your mind. The following eight simple, practical ways to teach your kids about God were selected with busy parents in mind. The practices are short and sweet, and all have been 100 percent kid-tested and parent-approved.



1. Make time for silence.
Some public libraries post signs that read: "Silence is golden, but not guaranteed." The same saying holds true for busy households. Amid the chaos of careers, meals, school schedules, and other family activities, moments of silence are hard to come by. But every once in a while it is good to take some time with a child to sit still in silence to listen to God. Linda Kaiel, a catechist at Franciscan Montessori Earth School in Portland, Oregon encourages short moments of silence for young kids. "Let's say you get a phone call saying that Grandma isn't doing very well in the nursing home or something like that. You can say, 'Let's just listen and turn our hearts to God for a moment and think of Grandma,'" Kaiel says. "We're not asking for a half hour of silence here; children always let you know when it's enough. But the silence can be their prayer."
Taking some time for silence can have a trickle-up benefit for parents, too, according to Rex Rempel. "Of course, quiet is a victory in and of itself," Rempel says with a laugh. "But we as grownups are often not very good at listening to God."
God speaks to us in the silence, to kids and adults alike. As far as prayer is concerned, the lyrics of a recent popular song sometimes hold true: "You say it best when you say nothing at all."



2. Bless your child.
Use your thumb or forefinger and trace a cross on your child's forehead. Say "God bless you" or "God be with you" while you are blessing them. You can bless a child before he or she drifts off to sleep, before he or she leaves for school in the morning, or at any other time during the day.
Great Spiritual Reads
for Young Kids
The Life of Jesus (Liturgical Press, 1993). A good New Testament for children, with nice illustrations.
The Dreamer by Cynthia Rylant (Blue Sky Press, 1993). An exceptionally illustrated book on the creation of the world.
And God Created Squash (How the World Began) by Martha Whitmore Hickman (Albert Whitman, 1993). The author's retelling of this ancient story is fresh and exciting.
3 in 1 (A Picture of God) by Joanne Marxhausen (Concordia House, 1973). A book on the Trinity. A wonderful tool that creatively explains a difficult subject.
In God's Name by Sandy Eisenberg Sasso (Jewish Lights, 1994). Explores the many images, voices, and names of God.
Wilfrid Gordon McDonald Partridge by Mem Fox (Kane/Miller, 1985). A little boy tries to discover the meaning of remembering so he can restore the memory of an elderly friend. A story of true friendship and the power of one person's love.
A Peek Into My Church by Wendy Goody and Veronica Kelly (WhipperSnapper, 1997). Explains all the objects and places in a Catholic Church. A great vocabulary builder!
The Tale of Three Trees by Angela Elwell Hunt (Lion, 1998). An American folktale about three trees whose wishes come true in a surprising way. A good story for both Christmas and Easter.
Benjamin's Box by Melody Carlson (Questar, 1997). Helps children understand Jesus' Resurrection. A good story to read during Lent.
Seven Lonely Places, Seven Warm Places (The Vices and Virtues for Children) by April Bolton (St. Anthony Messenger, 2003). An imaginative way to teach the Seven Deadly Sins and the cardinal and theological virtues.
The Keeping Quilt by Patricia Polacco (Simon & Schuster, 1998). The story of how a homemade quilt ties together the lives of four generations just as the sacraments connect us to Jesus. A beautiful book on the importance of ritual in our lives.
Renée M. LaReau and Anne Trick
Melissa Musick Nussbaum of Colorado Springs, a mother of five children, says the gesture of a blessing reminds a child that he or she belongs to God. "In a world that calls them by many other names, or that labels them with brands like Adidas, Nike, and Gap, this is a way of reminding them: 'This is your true name. You are a child of God.' It is a powerful way to remind them over and over that this is who they truly are."
The words of a blessing, says Nussbaum, are an expression upon which a parent can rely on both the good and bad days. "We can say these words honestly and truly to our children, even if we've fought, even if there is some distance there," she says. "It is an amazing thing, blessing a child."

3. Light a candle.
Lighting a candle, whether it is on the kitchen table at mealtime or in the living room during bedtime stories, can have a calming effect on children. Sure, many people light candles to make their homes look nice or to infuse a room with the scent of pumpkin spice, but candles have always had a spiritual meaning, too. We learn in the scriptures that God created light and made it good, and that Jesus Christ is the light of the world. When you light a candle, you are inviting Jesus into your home as light. You are inviting Jesus to be a part of whatever it is you are doing. This is something you can tell your child--that Jesus is a light for us.
To take things a step further, when you see candles in church, point them out to your child. That simple gesture makes a connection between church and home.

4. Meet the saints.
The church's calendar, filled with the feast days of saints and their accompanying legends and traditions, offers many opportunities for celebrating and learning about the saints' lives with young children. The saints are great heroes for kids to have, and their life stories are timeless.
Mike and Julie James of Cheverly, Maryland, parents of two girls, often rely on a book for creative ways to celebrate a saint's special day. They recommend The Catholic Parent Book of Feasts (Our Sunday Visitor) as a good resource. "Whenever I'm feeling we need a burst of something we can do as a family, I get the book out," says Julie. This often leads to baking or cooking a certain food associated with a saint. "It's one step beyond making Christmas cookies, and the girls love to give them to people."
Another great resource for celebrating the church's saints and seasons with kids can be found online at www.cyberfaith.com/spirituality_index.html.

5. Put holy items in plain view.
A cross, small statue, or some other kind of religious art in your home is a reminder to your child of the presence of God. Even very young kids have the capacity to notice.
Lenae Nofziger, married to Rex Rempel and mother of Sam, says a picture in Sam's bedroom of Jesus surrounded by children is a soothing presence at bedtime. "If he's really trying to get us to stay with him at night we point to the picture," Nofziger says. "We say, 'Mommy and Daddy always love you' and 'God and Jesus are always with you.' He can then point to the picture."
According to Nofziger, having a few religious pictures in their home also "links our house to the images he sees at church." Religious art makes the connection between parish and home, but it also reminds us that there is a whole other world we are living for: the kingdom of God.

6. Celebrate your child's Baptism.
Celebrate your child's Baptism as you would a birthday--as a special day to remember year to year. Even very young children enjoy looking at photos or watching a video of their own Baptism.
Kevin and Julie Kaminski of Omaha, Nebraska like to show their 4-year-old daughter, Anna, a scrapbook with pictures of her Baptism. "She loves to look at those pictures," Julie says. "She'll say, 'That's me when I was a baby.'" Just the act of remembering and talking about your child's Baptism day--their "re-birthday"--sets it apart as special.

7. Tell the Jesus story.
Just as we pass on stories about beloved grandparents, aunts, and uncles, parents can tell stories about the life of Jesus. Maybe you don't feel confident doing this yourself, but the good news is that there are plenty of great books to help you.
An excellent book that tells Jesus' life story is V. Gilbert Beers' Tell Me the Story of Jesus (Tyndale). This is a great book to read to children about the life of Jesus. The stories are short, and they all end in a question, so you can discuss the story with your child. When children learn Jesus' life stories, Jesus becomes a real person to them, someone with whom they can form a relationship.

8. Pray in the car.
Maybe you don't exactly think of your car as a chapel on wheels. But God is everywhere and we spend lots of time in our minivans, so why not set aside some time for prayer while shuttling kids from place to place?
Bill and Cheryl Krueger of Kettering, Ohio, the parents of two boys, do just that. When the Kruegers hear an ambulance or police siren while they are driving, they all pray a Hail Mary together. "You never know if someone is really hurting or dying," Cheryl says. "Sometimes we'll also pray for the doctors and nurses, the person's family, or other cars on the road that day. I hope it says to the boys that not only can they pray anywhere, but that their prayers are needed."
Other families have prayed in the car as a way of alleviating young travelers' fears. Victoria Hayes and her six children regularly pray in the car while they drive the length of a long, dark, underwater tunnel near their home in Mobile, Alabama. Driving through the tunnel always makes the young riders a little uneasy, so the Hayes family often prays the Our Father together until their car emerges at the end of it.
"Everyone was petrified when we drove through it," Hayes says. "But praying says that God is always there for us and will quiet our fears." And, as it turns out, the prayers are not just for the little ones. "I can't tell you how scared I was the first time I went through that tunnel," Hayes says.
Teaching small children about God is about paying attention to little things: light, quiet, gestures, pictures, or a story. To paraphrase the theologian Karl Rahner, there are many, many little doors by which people--little people and big people--enter into faith.
Julie Kaminski, reflecting on life with her three young children, agrees. "It's the little things," she says, "that make you realize how big life is."
Renée M. LaReau is the author of Getting a Life: How to Find Your True Vocation (Orbis, 2003). Anne Trick is the mother of three adult children and director of religious education at St. Charles Borromeo Parish in Kettering, Ohio. This article appeared in the December 2004 (Volume 69; Number 12: pages 18-22) issue of U.S. Catholic.
All active news articles