What price justice?
Four years after independence East Timor's future depends on difficult choices about justice, reconciliation, and economic recovery. A report and photos by W. Evan Golder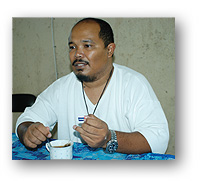 CLARETIAN FATHER CYRUS BANQUE IS A JOVIAL HOST, with warm greetings for everyone and an engaging smile. But when the topic of conversation turns to justice and reconciliation for the new nation of East Timor, the Filipino missionary's smile breaks into a frown and his brow wrinkles. Banque has served as a parish priest in the hill town of Bobonaro for the past eight years and is the director of the Catholic Justice and Peace Commission of the Diocese of Dili.
"The country is under pressure," he says. "Do we want justice? Or do we want economic stability? This is a tough dilemma."
So tough, in fact, that last April some 8,000 demonstrators took to the streets of Dili, East Timor's capital. They were led by Catholic bishops and priests—among them Banque, who drove six hours on narrow, winding roads to participate.
The protests began as an objection to the government's withdrawal of support for religious instruction in primary schools. But the demonstrators also opposed a deal the government had made with Indonesia that included an agreement to drop trials over atrocities committed in September 1999 by departing Indonesian soldiers and their Timorese allies. A statement by East Timor's two Catholic bishops, Alberto da Silva of Dili and Basilio do Nascimento of Baucau, said the people could not "condone impunity for crimes against humanity."
After 20 days of peaceful, around-the-clock protests, the anti-government demonstrations came to an end in May when the two bishops signed a negotiated joint declaration with Prime Minister Mari Alkatiri, reaching agreement on a series of policy disputes and creating a permanent working group.


East Timor's troubles
East Timor is a Connecticut-sized, half-island nation near the eastern end of the Indonesian archipelago. Its population of 1 million is more than 90 percent Roman Catholic. The country has had a bleak history. After more than 400 years as a Portuguese colony and 24 years of Indonesian occupation, it won the right to a United Nations-sponsored referendum on whether to remain part of Indonesia.
On Aug. 30, 1999, 98 percent of eligible voters turned out, with 78.5 percent voting for independence. But as Indonesian soldiers withdrew, they and
the Indonesian-backed militia began systematic raping, looting, burning, and killing. It took more than two weeks for U.N. peacekeepers to arrive. In that time some 1,500 East Timorese were murdered, Dili was burned, and its infrastructure destroyed. An estimated 300,000 people fled for safety to West Timor, still part of Indonesia.
The U.N. nation-building team of 11,000 troops
and civilians helped move East Timor toward independence, officially declared on May 20, 2002. Last May, the U.N. mission, downgraded annually, was changed from a support mission to a political mission, with a U.N. team of 75 staying through May 20, 2006.


Violence up close
Our Lady of the Immaculate Conception Parish in Bobonaro experienced its share of the violence in 1999. When the area's agriculturist sought sanctuary at the church, Banque took him in and urged him to stay. But then the local militia leader showed up.
"You'll be all right," the militia man assured the agriculturist. "It's OK for you to go home. Nothing will happen to you."
Despite Banque's misgivings, the agriculturist, lured by the sweet talk, left with the militia leader. The next day his body, showing signs of torture, was found on the outskirts of town.
Even so, the Claretian priest is not quick to condemn the militia leader. Why? Because later on, that same man saved Banque's life.
When the violence began in September 1999, most religious decided to remain in East Timor among their parishioners. Then catastrophe struck in the southwestern town of Suai. As Indonesian troops approached, some 2,000 people took refuge inside Ave Maria Church. Three priests went out to negotiate—they were shot dead. In the melee that followed, 100 to 200 people were killed.
"At that point," says Banque, "it was either leave or be killed. We knew we could not protect our people any more."
A caravan of three vehicles carrying three Claretian priests, five Claretian brothers, six Carmelite sisters, and a few children set out for West Timor. At the nearby border the militia and Indonesian special forces were divided as to what to do.
"The special forces wanted to kill us right then," Banque remembers. "But the local militia leader said, 'Wait! I need to check with my commander.' We were right in the middle, right between the two groups. As they got angry with each other, if they had started shooting, we would have been caught in the crossfire. So we waited.
"Then we heard the militia leader say, 'Spare them!' Just as the gate lifted, I heard shots—and I drove like hell!"


Landmarks of the past
By many accounts, Indonesian soldiers were brutal and undisciplined during the Indonesian occupation of East Timor (1975-1999). Up to 200,000 East Timorese died, many from starvation, sickness, and disease, as well as from the fighting.
During the occupation some East Timorese took to the hills and waged a guerrilla war. Among them was Xanana Gusmao. Although the Indonesians eventually captured and jailed him in 1992, his imprisonment gained East Timor international attention, and he received a visit from Nelson Mandela. Today Gusmao is president of East Timor.
As one drives around the country today, landmarks of that violent period are still common. In Dili a pile of rusted rubble near the harbor and a nearby shell of a burned-out hotel and restaurant remain as reminders.
Nearby is the former residence of then-Bishop Carlos Belo, one of the few East Timorese in the country to speak out against Indonesian abuses. He offered protesters as well as those fleeing violence sanctuary in his home. In 1996, along with Jose Ramos-Horta, now East Timor's foreign minister, Bishop Belo was awarded the Nobel Peace Prize.
About 20 miles west of Dili along the coast lies the village of Liquica, the site of a massacre in the Catholic Church of St. John of Britto on April 6, 1999. An estimated 60 to 200 people, including many women and children, were killed by militia while Indonesian personnel stood by. According to the current caretaker, there were bodies in the sanctuary and in every room of the rectory, including where we were sitting and drinking tea.
And conspicuous in the front yard of a family home in Bobonaro is the grave of the area agriculturist whose murder Banque was unable to prevent.


The road to reconciliation
Today East Timor's dilemma is how to build a nation and get along with its powerful neighbor Indonesia while remembering and forgiving—or forgetting and resenting—the violent events of the past. This dilemma affects both national policy and personal practice.
On the national level it concerns government policy toward Indonesian and Timorese leaders who planned, ordered, or executed the policies that wrought so much death and destruction, especially the scorched-earth practices of September 1999. While both Indonesia and East Timor have held tribunals on the atrocities, until now all of the prosecuted Indonesian military and police personnel have been either acquitted or freed on appeal.
Last year East Timor's government agreed to a deal with Indonesia to have a bilateral Truth and Friendship Commission contend with Indonesia's atrocities rather than an international tribunal appointed by the United Nations. This led many to accuse the East Timorese government of being soft on Indonesia. Bishops da Silva and do Nascimento, for example, have strongly opposed the bilateral deal.
"The position of the church is the same, it's clear and firm," says da Silva. "We need justice. Justice must be done."
In 1991 da Silva was the priest who said Mass before the demonstration that preceded the massacre at Dili's Santa Cruz cemetery. He says he is puzzled by President Gusmao's current position.
"I don't understand," he says. "If you reconcile, does justice remain to be done, or is it not going to be done?"
In a process modeled after that of South Africa, the U.N. set up a Commission for Reception, Truth, and Reconciliation in East Timor (CAVR). Headquartered symbolically in a former prison in Dili, it fanned out across the country, set up community meetings, and took interviews from former militia who wanted to return home and had not committed serious crimes such as rape and murder.
CAVR recorded 8,000 interviews and presented its final 2,500-page report to the East Timor government on Oct. 31, 2005. It recommended that the perpetrators of atrocities be brought to justice and that the victims receive compensation. Gusmao, in presenting the report to parliament in late November, recommended that it not be made public, criticized its recommendations, and accused the commission of "grandiose idealism."
When it traveled to Bobonaro, CAVR held its hearings at Immaculate Conception Church. "I reminded [the former militia] that this place where you are meeting, you burned," says Banque. "So six or seven militia commanders, including the militia leader of Bobonaro, and 100 villagers met in the church, right there." He points out the rectory door toward the church. "But the militia had no sense of guilt. 'It was not our fault,' they said. 'We were told to do something, so we did it.' They wanted their houses and their land back. The people said, 'How can you ask for this, after what you did? How dare you? You burned my house. You killed my pig. Where is my motorcycle?'?"


Both sides now
As for the continuing struggle in East Timor between the demands of justice and economic stability, Banque says he can see the issue from both sides.
"In your heart, you want justice," he says. "But you also see the people's welfare. Because when there is an insistence on justice, all too often there is retribution by the majority."
He cites as an example an anniversary remembrance of the killing of the priests in Suai, which was followed immediately by the burning of the U.N. compound in Atumba.
You can't prevent people from asking for justice, he says. But "there are no easy answers. There are many East Timorese students studying in Indonesia. If we demand justice, they may not get their visas renewed. East Timor also depends on Indonesia for rice, fertilizer, diesel fuel, seeds, noodles, matches, milk, sugar. If we demand justice, will we no longer get these things?
"The blood of the people is crying for justice. But our government now says that we should forget everything and become good friends so that the economy can move forward. The people cannot accept this.
"We are one people under the mercy of God," says Banque. "But before reconciliation, those responsible for the death of so many should acknowledge their guilt and ask pardon for their sins. There should be some kind of restitution for the crimes they have committed against the people.
"We cannot be at peace if those who have died cannot find justice, and we cannot move forward if there is no reconciliation."
W. Evan Golder is editor emeritus of United Church News. He visited East Timor last year and lives in Rocky River, Ohio. This article appeared in the February 2006 (Volume 71, Number 2; pages 32-36) issue of
U.S. Catholic
.
All active news articles