Picturing the perfect priest
Our readers have some strong ideas about how to build a better clergy—from training to ordination requirements to personal traits that make a priest great.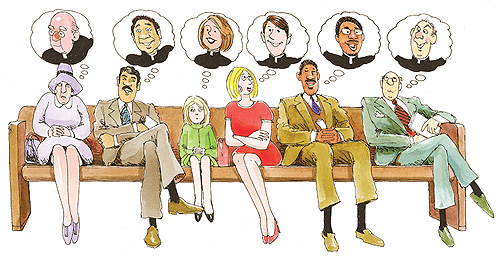 ALL YOU PRIESTS, SEMINARIANS, and those considering the ordained life out there may want to sit down, put your feet up, and take a deep breath before you read any further. The results of our special survey, "What do you want in a priest?" are in. More than 800 readers and other Catholics weighed in with their opinions, and many of their wish lists make the Easter Vigil look short in comparison.
So what exactly are U.S. Catholic readers looking for? Overwhelmingly the most frequently mentioned quality people want in a priest is spiritual depth. Being able to provide spiritual inspiration and guidance is essential, says Norma Minneman of Clayton, Ohio. "They should take time to pray every day."
"If their personal spirituality is well developed, the other necessary traits should flow from it," writes Laurel Wilson from Ocala, Florida.
And the survey says . . .
1. The most important qualities of a parish priest are . . . (respondents could pick three):
| | |
| --- | --- |
| Votes | Qualities |
| 139 | Spiritual depth. |
| 99 | Kindness and sensitivity. |
| 80 | Communication skills. |
| 66 | Collaborative style of management. |
| 51 | Excellent preaching. |
| 45 | A gift for leading the Mass. |
| 31 | Intelligence and a good mind. |
| 23 | Passion for social justice. |
| 22 | Sterling character. |
| 17 | A gift for hearing Confession. |
| 11 | Devotion to Catholic schools and religious ed. |
| 9 | Strong administrative skills. |

2. As a rule, I'm happy with my parish priest(s).
| | |
| --- | --- |
| Agree | 76 % |
| Disagree | 13 % |
| Other | 11 % |

3. Who should have the greatest say in selecting a new pastor?
| | |
| --- | --- |
| The entire parish. | 35 % |
| The bishop. | 28 % |
| The parish council. | 15 % |
| The chancery. | 5 % |
| Sunday Massgoers. | 4 % |
| Other. | 13 % |
4. On a scale of 1 (not important) to 5 (most important), I would prefer my parish priest to be:
| | |
| --- | --- |
| Someone with exemplary moral integrity. | 4.8 |
| Open to and comfortable working with women. | 4.4 |
| Fluent in English and familiar with American customs. | 4.0 |
| Heterosexual. | 2.7 |
| Able to speak more than one language. | 2.3 |
| From my diocese. | 2.1 |
5. I believe the church hierarchy is in tune with what American Catholics want and need in a priest.
| | |
| --- | --- |
| Agree | 24 % |
| Disagree | 66 % |
| Other | 10 % |
Of course, spiritual depth isn't the only thing on people's lists. Other traits that rank high are, in order, kindness and sensitivity, the ability to communicate well, and a collaborative style of management. The least important qualities respondents cite are a gift for hearing Confessions, devotion to Catholic schools and religious education, and, at the very bottom of the list, strong administrative skills.
"Focus less on being CEO," suggests a reader from Casper, Wyoming. "Church employees and other laypeople have the education and ability to manage finances, but they can't hear Confessions or say Mass."
Still, it's a tricky balancing act. All parishioners want "Father" to have some level of understanding, skill, or talent in theology, spirituality, scripture, management, communication, leadership, compassion, and sociability. And seminary training is only so long and can only do so much.
Richard Siefer of DuBois, Pennsylvania, himself a priest for 31 years, says the next generation of priests would be wise to concentrate on honing their pastoral and preaching skills as well as recognizing the importance of the role of women.
Father Jack Arlotta of Highland Falls, New York says the most important area for new priests to focus on is "the need to work collaboratively and deal with people sensitively. Too often the recently ordained don't have a team approach and tend to be a bit arrogant, believing they know much more than they do."
Liam Seaton of Quakertown, Pennsylvania says he'd like to see priests focus on continuing education. "Priests, like all adults, need lifelong learning in many areas—not just about church rules and regulations."
Although we didn't specifically ask, dozens of respondents comment that they want ordination opened to women and married men. "This discussion is incomplete until the church is willing to open the definition of priesthood to recognize the gifts and contributions of women and married men," says Joan Finder of St. Louis, Missouri. Julie Marie Totsch of Racine, Wisconsin says that without taking this step, "there probably won't be much of a church in the next 50 years or so."
Part of the appeal of opening up the priesthood is to have clergy who understand the complexities of married and family life—something many readers feel is too often missing. Essie Reilly of New Albany, Indiana wants priests to know the importance of "knowing their parishioners—married, divorced, wealthy, poor—and what their real concerns are."
Despite all the expectations we have for our priests—that they be spiritual, collaborative, eloquent, dynamic, even superhuman—a strong majority of respondents, 76 percent, report that they're satisfied with their parish priests. Still that doesn't mean everyone is just lucky enough to have a great priest assigned to their church. "In the last five years we have tried three Catholic parishes so we could find the most charismatic, sincere, spiritual uniter of the congregation," reports Donald Zolandz of Germantown, Wisconsin.
Many readers recognize the heavy demands placed on priests, especially those who serve in large parishes or are assigned to two or more parishes. In order to fight the potential for burnout, Debra Jones of West Jordan, Utah has a short list of events that require a priest: "Mass. Can't do it without him!" Eveything else, she says, can be run by other community members. "Parishioners can lead RCIA, religious education, and Bible study. There is so much talent available. If the priest encourages participation and leadership, I believe we will all be better off."
But E.M. Stropnicky of Dalton, Georgia raises one concern. "I know priests are only required for Penance and Eucharist, but how else do they get to know their parishioners other than by being there for the joy of welcoming a child at Baptism or joining a couple in Matrimony? I wish a priest had come to visit me in the hospital."
While many respondents agree that the presence of a priest isn't necessary at most parish activities, they also make clear that it would be nice to see him at least at large events, and at least occasionally. Others want more, mainly so that priests get to know and build up the community.
"A priest should make home visits," says Isaac Calicchio of Meriden, Connecticut. "He should spend the time to chat, eat, and meet all family members whether they're Catholic or not. He should be available to all—at old age homes, First Communion classes, the school if the parish has one."
Perhaps readers' expectations of priests are so high because most have encountered at least one who proves those expectations can be met or even surpassed. A reader from Rochester, New York remembers a priest who "believed in people, called forth their gifts in an empowering way, and modeled Jesus-like wisdom and behavior. He was also prayerful, preached relevant homilies, was reliable, well-read, and concerned about justice issues."
Donna L. Davis of Hartwood, Virginia says the priest who most influenced her "never forgot the dignity and value of each person, nor did he exalt himself. He portrayed Christ for us through the beauty of his daily life."
A reader in Albert Lea, Minnesota remembers the priest who "was kind and listened to me. But not just me—he was kind and respectful to everyone, young and old. In him I understood Jesus as my brother."
That, perhaps, is the best and shortest description of the ideal priest. Fathers, bishops, and seminaries, take note.

If I were training the next generation of priests, I would focus on . . .
Critical thinking skills, pastoral skills, preaching, collaborating with others, an egalitarian attitude, and Vatican II theology.
Marian Monahan
Suwanee, Ga.
The basics: the teachings of Christ and the meaning of the Creed. Most importantly, integrity.
Martin M. Britten
Shapleigh, Maine
How to run more than one parish at a time.
Carol Moran
Mena, Ark.
The ability to serve the needs of all age levels in a parish.
Polli Kucharik
Grants Pass, Ore.
Learning good communication skills, which includes the ability to listen.
Dixie D. Jackson
Las Vegas, Nev.
Spiritual development. I want priests who have a deep prayer life. Also, psychological development and social skills.
Joyce Shields
American Canyon, Calif.
The importance of listening to and learning from the parishioners' lived experience, especially as it relates to marriage and family issues.
Name withheld
San Mateo, Calif.

The parish events/activities that require the presence of a priest are . . .
The main fundraisers, to show his interest and commitment to the parish and people. Also, a regular presence at the school, to be a real person to children and to guide them in their faith.
Judy Dorner
Glendale, Wis.
Gatherings at which the future of the parish is being discussed. The priest needn't necessarily make the decisions, but it's vital that he hear firsthand what parishioners are saying.
Bill Cahill
Wheaton, Ill.
Activities that help the priest and parishioners get to know one another.
Rosemary Kroll
Sanford, Mich.
Certainly all those sacramental moments require the presence of a priest, but his presence at funeral homes, hospitals, nursing homes, etc., is also important in the lives of his parishioners.
Tom Whitman
Erie, Pa.

The parish events/activities that do not require the presence of a priest are . . .
Those that the priest feels the laity can handle with his input.
John Zak
Pittsburgh, Pa.
Expecting a priest at every meeting for every group is not fair. He should participate where he is comfortable.
Ron and Mary Kaiser
Joplin, Mo.
Bingo.
Al Van Milligen
Lansing, Ill.
Everything outside the administration of the sacraments and presiding over the Holy Eucharist. Raise up the laity to do their job as the Body of Christ. Trust the people.
Jim Bryan
Pearland, Texas

With regard to priests who are recently ordained, my experience has been . . .
They seem to be very conservative and follow the "letter of the law" and pre-Vatican II ideas and ideals.
Mitzi Cicero
Livonia, N.Y.
Outstanding. I have been able to relate my opinions without receiving negative or judgmental responses.
Name withheld
Carman, Ill.
Disturbing. Recently while discussing diocesan restructuring, a newly ordained priest said, "We are the shepherds; they are the sheep. What's the problem?"
Name withheld
Buffalo, N.Y.
Mixed. One still has major problems with the English language.
Name withheld
South Yarmouth, Mass.
They are very committed and full of energy. They need good mentoring and a breadth of experience in the realities of parish/pastoral ministry.
Deacon John Langmead
Catonsville, Md.
Very dedicated but narrowly trained to follow conservative Catholicism. Don't really see the "big" picture.
Mike Lewis
Pensacola, Fla.
They are older and have more experience in the world. That's good for understanding problems that face everyday folks.
Name withheld
Lakeville, Minn.

The one desirable trait that seems most often lacking in priests is:
Humility. Intelligence, learning, administrative skills, even great preaching fail to make an effective priest if there isn't a recognition of brokenness we all share.
Cindy Brauer
Manhattan Beach, Calif.
An understanding of justice and peace issues. The social teaching of the church tends to receive too little attention.
Eugene Kutsch
Dubuque, Iowa
From those priests who attended liberal seminaries, a focus on orthodox theology.
Tim Berg
Glendale Heights, Ill.
True understanding of how families are pulled all different ways and of their financial difficulties.
Margaret Merz
Central Islip, N.Y.
Presence. Many seem too busy to be pastoral to the individual before them.
Name withheld
Denver, Colo.
Willingness to challenge the secular views that many of us bring into the church and that obscure our true calling as Christians.
Lenora Goodliffe
Escondido, Calif.
The ability to speak truth to their bishop and fellow priests.
Virginia Arnold
Washington, Ind.
None. The fact that he has given up his life to the service of God is more than enough!
J. Nemey Arellano
Albuquerque, N.M.

The best thing about the priest who has been most influential in my life is:
His compassion, mercy, and ability to listen; his affirmation of everyone who attended Mass or sought counsel. He genuinely cared about God's children and encouraged others to get involved in parish decisions and programs.
Justine Gonzalez
Troy, Mich.
In 1968 I met a Catholic chaplain while serving in the Air Force. He exemplified a human side that I never had quite witnessed in a priest previously. He provided sage spiritual and common-sense advice that still resonates with me today. I loved that man and wish I could revisit our conversations some 38 years later.
Frank Bonsiero
Clifton, Va.
He understood the complexities of the lives of his flock and taught how to inform one's conscience and the need to follow that decision.
Jerome Klosowski
Bay City, Mich.
He had a genuine love for the people and a sense of humor he shared often. He was a man of integrity, who knew the people he served and the God he sought to share.
Mary Flick
St. Louis, Mo.
He challenged me to consider what I could do for my parish.
Name withheld
Boynton Beach, Fla.
His relationship with my children. He always makes time for them. I want them to have a pleasant experience with our priest so that if they hear the calling they don't dismiss it.
Deb Ryan
Nisswa, Minn.
He is married. He was Episcopalian and was ordained a Catholic priest 25 years ago. When he talks about marriage you know he knows and understands.
Suzi Wasiak
Gilbert, Ariz.
His humanity and humility. Just because he is a priest doesn't mean he knows everything, and he realizes that.
Brother Dom Sanpietro
Brownsville, Texas

General Comments
The best priests I have known exude happiness in their chosen vocation rather than treating the priesthood as merely a job.
Mary Jane Gregory
Hockessin, Del.
Most parishes have but one priest now, and there are hundreds without any. We need priests. Eucharist is primary. Celibacy is not!
Father Kevin Forsyth
Naugatuck, Conn.
I am appalled at the excessive concern about a priest's sexual orientation, which would bar good men from serving God's people as a priest. If one is celibate, one's orientation is moot. Homosexuality does not equal pedophilia.
Kris Ivancic
Tupelo, Miss.
I am 65 years old, and I can recall only one priest I didn't like. On the whole, I think priests are wonderful. The biggest tragedy of the abuse scandal is how the vast majority of priests have been so hurt and that it probably has crippled their ability to display affection for their people for fear that even a touch might be misinterpreted.
Rita Conley
Sicklerville, N.J.
Seminaries today accept too many men/boys who follow—those who take direction from EWTN and Steubenville—rather than men who lead with intelligence and integrity and who are open to the promptings of the Holy Spirit.
Name withheld
Colorado Springs, Colo.
I regard it as a responsibility of parishioners to help our priests utilize their talents and gifts in the best way possible.
Don Koza
Frederick, Md.
I know many seminarians, and what amazes me is their dedication and devotion to holiness (something I see less of in older priests). They have such a joy in their vocation.
Ann-Marie Yeley
Houston, Texas
I have wide experience of Protestant churches—my husband is a United Methodist pastor. No Protestant church I have experienced would accept the little contact with their pastor that is the norm in large Roman Catholic parishes. We need to ordain married men and women, and we need smaller ratios of clergy to laypeople.
Kathleen Tillinghast
Eureka, Calif.
I admire most priests for their attempts to be good at everything people expect of them. There are too many demands placed on priests today—often unrealistic expectations. Most are very generous with themselves and their time and are often close to burnout.
T. Warnick
Gerrardstown, W.V.
By Heather Grennan Gary, associate editor of U.S. Catholic. This article appeared in the April 2006 (Volume 71, Number 4; pages 12-17) issue of U.S. Catholic.
All active news articles