Ricardo B. Calderon "Our Hero"
Tuesday, May 19, 2009
By: Viola Calderon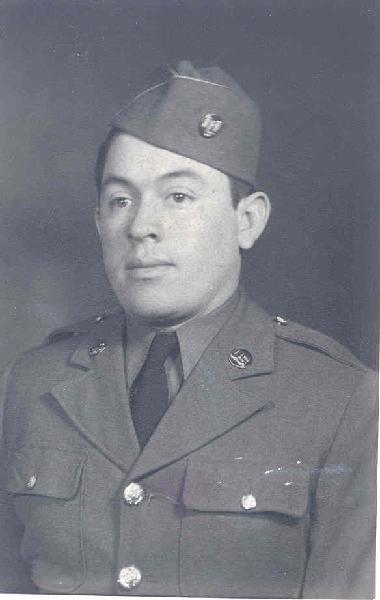 Ricardo was a proud soldier during WWII.
Ricardo was a proud soldier during WWII. He was stationed in the Northern Africa Theatre serving under George S. Patton. He was inducted at Ft. Bliss, Texas on October 20, 1941 and served until February 12, 1943 when he was honorably discharged because of injuries suffered in battle. He was driving a transport truck that carried prisoners of war along with two other guards when they ran over a landmine which exploded killing everyone except him. He received head and back injuries and remained in a coma for over three months. When he recovered the Army determined that he would no longer be able to continue his service and sent him home. Later they would train him in some occupation of his choice and he chose to become a barber. He cut hair for over 40 years before retiring. He went to be with the Lord this year, April 19, 2009. He was always so proud for having served his country and would always recount his war stories to anyone who would lend an ear. He was very active in his church, community and school. He was loved by many and will be missed and remembered by all. May he rest in peace.
All active news articles