Call waiting: The stories of five women who want to be priests
Mission Without a Collar Delle Chatman is no stranger to prejudice. Even as a young girl, she recognized that societal forces beyond her control were trying to limit what should have been limitless possibilities for her life. So when, at age 12, Chatman began to sense a call to the priesthood, she quickly sized up the church teaching banning women's ordination as "just another form of prejudice."
"As an African American woman, I'm kind of used to it," says Chatman. "But you can't pay attention to that, or you'll just become a bitter, angry, and unproductive person. You have to simply do what you feel called to do, and let God take them on."
That can-do attitude has been key to Chatman's success as a screenwriter, director, and teacher, not to mention as a single mother of a 6-year-old daughter. But when it comes to her call to the priesthood, she has discovered—through much prayer—that letting go is the most constructive approach to the impasse she faces with the institutional church.
"I've spent a lot of time running from this, but last year I decided that I was just going to surrender," she says. "Now I see it not so much as a decision I have to make, but rather an answer I have to receive."
The question has dogged Chatman nearly her entire life. Like many with a calling to the priesthood, she remembers "saying Mass" as a child. "I think I've always had a love of the Eucharist, and I wanted to be the conduit for that flow of grace," she recalls. "I guess I felt like I was meant to do it."
With that door closed to her, she pursued what she sees as a similar calling: the arts. But life in Hollywood was not conducive to churchgoing.
"For 14 years, I was wandering in the wilderness of intellectual arrogance," she says, half laughing. "But Jesus ran me down and made it clear I needed him or else I was going to be marching to the tune of my own ambition."
These days, Chatman has pieced together a life that includes a conglomeration of ministries—both in her professional work as a writer, producer, and teacher, and in video projects for nonprofit organizations and as a member of a lay-preaching team at her Chicago parish.
"I may not be wearing a collar, but I still feel I'm in the mission field," she says.
Still, she struggles with the question of whether formal ordination is necessary to fulfill her call to ministry, and she plans to pursue a master's of divinity degree—just in case. But she is no naive dreamer. "We are not going to be ordained anytime soon in the Catholic Church. It's just not going to happen," she says.
Still, she trusts that there is a reason things are as they are. "I'm confident I'm being led on a path that's best for me," she says. "I've kind of come to a realization that I've already been 'ordained' because God has said, 'I want to use you as a minister.' That is something the Catholic Church can't take away from me."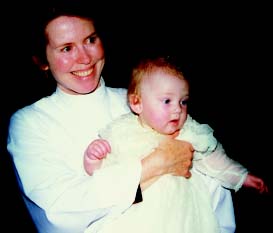 A Heart's New Home
The Catholic Church's loss may be other churches' gain when women like Maureen Dallison Kemeza seek ordination in other denominations. But as an Episcopal priest, Kemeza believes she's as Catholic as ever.
"I don't feel I've left Catholicism in the larger sense. I've taken it with me," says Kemeza, rector of St. Paul Parish in Newton, Massachusetts. "I have a deep and abiding love for the Roman Catholic Church. In fact, it's a freer love now because I'm no longer subjecting myself to what I think is the church's oppression of women."
She sees the Anglican Church as having an unbroken liturgical and theological tradition. In fact, she remembers quite vividly the words from the liturgy when she was received into the Episcopal Church: "I recognize you as a member of Christ's holy catholic church."
But it wasn't theology that convinced Kemeza to leave the church of her childhood—and the tradition she had been teaching her own two sons. In the end, it was more of a gut feeling that told her she had found her true home in the Episcopal Church.
She guesses it began with her father's Episcopalianism, although he converted to marry Kemeza's Irish Catholic mother. "So for me there was always a sense of a birthright, not only with Roman Catholicism but elsewhere," she recalls.
In the early 1970s she decided to pursue graduate studies at a seminary. Although she was not yet considering ordination, she nonetheless chose an Episcopal school. "Intuitively I just felt more at home there," she says. "They already accepted women and had married people there, and I was both."
With other women around her preparing for ordination, the priesthood became a real possibility. "I realized this passion for God and all things religious that I had had my entire life might have a concrete vocational call that I could follow," Kemeza says.
Still, she remained Catholic. "I guess I thought things were surely going to change in the Catholic Church because it just made logical sense," she says.
The Little Flower that couldn't
Catharina Broomé, O.P., in a two-part article in Spirituality magazine (May/June and July/August 2000), points out that Saint Thérèse of Lisieux—named a Doctor of the Church in 1997—often expressed her desire to be a priest. Excerpts follow:
To her sister Marie of the Sacred Heart, Thérèse writes, "I feel in me the vocation of the priest. With what love, O Jesus, I would carry You in my hands when, at my voice, You would come down from heaven. And with what love would I give You to souls! But alas, while desiring to be a priest, I admire and envy the humility of Saint Francis of Assisi and I feel the vocation of imitating him in refusing the sublime dignity of the priesthood."
Thérèse's desire to be a priest is clearly glimpsed in one of the plays she wrote, titled Saint Stanislaus Kostka. It told the story of a Jesuit who at one time became ill and longed to receive Holy Communion. Saint Barbara came, surrounded by angels, and gave him Communion. In Thérèse's play, Stanislaus tells this to one of the brothers, who expresses astonishment over the fact that it was a woman saint and not one of the leading angels who gave him the sacrament. Stanislaus answers that in the kingdom of God this is possible and "perhaps Saint Barbara, when she lived on earth, had longed to share the high duties of the priest, and the Lord wanted to fulfill her desire." Doctor of the Church Thérèse does not see gender as an obstacle—on the contrary, "The Lord wanted to fulfill her desires."
She shared this confidence with her sister Genevieve in her final year, when she was only 24: "Don't you see that God is going to take me at an age when I would not have had the time to become a priest.... So in order that I may regret nothing, God is allowing me to be sick; ... I would have died before having exercised my ministry." Faced with the knowledge of her early death she finds comfort and meaning in the thought that it is related to her vocation to be a priest.
With the genius of a saint, Thérèse found a way of living with an impossible vocation. But it was not a question of resignation. Thérèse knew that she had the right to want this, knew even that her desire came from God. She could not deny it.
Pope John Paul II spoke of Thérèse's "supernatural boldness" and declared that she was a "teacher for our time," "a woman who tackled the gospels and could find there hidden treasures with realism, with depth..., and with brilliant womanly wisdom."
In this way the Holy Father emphasized the importance of the new Doctor of the Church specifically as a woman, her boldness, her "unique unerring judgment." Because of her clarity of vision, this special gift of the Spirit which makes her the greatest prophet of our time, we can also dare to trust her deep conviction that even a woman could be a priest, and that there is nothing in scripture that gives men a special place in that matter. John Paul II has, with his words and deeds, guided by the Holy Spirit, confirmed that this woman was sent by God to assist us in interpreting the signs of the times and to come "closer to the will of God."
By Catharina Broomé, O.P., a lecturer, writer, and preacher in Stockholm.
Over the next decade, she worked on a doctorate in theological ethics, raised her family, and cared for her father as he died from Alzheimer's. And she became increasingly angry about the "cold, hard" stance of the Catholic Church.
Kemeza remembers several last straws. The bishop of her diocese released a directive prohibiting women from lectoring when a man was available. Soon after, her son received a letter inviting him to become an acolyte. "Here a 9-year-old was being called to liturgical ministry, but I had an M.Div. and two-thirds of a Ph.D. and I couldn't lector," she says.
While working as a youth minister at a relatively progressive parish, she heard horror stories about other women in ministry being excluded from archdiocesan meetings.
"Finally I got to a point where I said I can't allow these good men—my priestly colleagues—to be in a situation of oppressor to me," she says. "It was making me bitter, and I knew God didn't call me to be bitter."
In 1992, Kemeza was ordained by Barbara Harris, the first woman bishop in the Episcopal Church. "I felt like I had found my heart's home in the Episcopal Church, where issues of male and female were not governing everything," she says. But her decision was not propelled by anger. "Anger means there's still a real attachment," she says. "By the time I made my change, it wasn't in anger. It was just further integration of what my life was supposed to be."

A "Dangerous Woman"
Theresa Trujillo remembers the first time she learned she could not be a priest. As a little girl growing up in Pueblo, Colorado, she was playing "Mass" with hosts cut from tortillas when she proudly announced she was going to be a priest when she grew up. It was a non-Catholic neighbor who delivered the shocking news: "You can't do that; you're a girl."
But it wasn't until years later that the truth truly sunk in. While she was working for a retreat program in her 20s, a male friend confided during a weekend retreat that he was "going to be a father."
"I thought he was going to have a baby!" says Trujillo. "But then I realized he was going to go into the priesthood. I started crying, and he thought it was because I was happy for him. But I was really mourning. It was the first time I realized full-out that this is something I can never do."
Now 30, Trujillo is dealing with the issue of women's ordination much as she does with the other injustices she is dedicated to fighting. "I believe in a multiplicity of strategies," says Trujillo, whose pierced nose indicates something of a rebel streak. "You stall the system, build alternatives, and work to change the system. I feel doing all of those is helpful to me."
Trujillo was doing a little bit of all three at the School of the Americas protest last November at Fort Benning, Georgia, where she was interviewed for this article. As a mestiza of Mexican descent, she is deeply concerned about the treatment of indigenous peoples. Another priority is intercultural understanding, which she helps to facilitate in her work with groups of Americans and Canadians who visit the Cuernavaca Center for Intercultural Dialogue and Development in Cuernavaca, Mexico.
Living in Mexico has exposed Trujillo to women's leadership in small base communities, as well as given her an international perspective about women's ordination.
"I've learned this is not just a product of white feminism or just a problem for the U.S. church," she says. "There are people all over the world saying we as a global church need to make changes, especially around issues of inclusion."
It is this "intersection of oppression" that she wants to focus on as a newly elected board member for the Women's Ordination Conference, a national advocacy organization founded in 1976 to promote equality of men and women in the Catholic Church and a renewed priestly ministry. "This is not a single issue for me," she says. "I can't go away into my own bubble and work on women's ordination and not work on other issues. It's all interconnected."
She is grateful that her family, whose deep faith first nurtured her own, continues to support her in her struggles with the institutional church. Trujillo recalls how at WOC's recent 25th anniversary celebration in Milwaukee, women who felt called to ordination were invited to stand. Her father saw her get out of her chair and later called her a "dangerous woman"—and he meant it as a compliment. "It was great; he really got it," she says with a tear in her eye. "But I will not only carry on the faith my parents and grandparents gave to me. I also feel a responsibility to name injustice in it and to work to change that."

Called ID
For Emily Malcoun, the pain is palpable and intense. Being prevented from following her call to the priesthood has all the emotional intensity of a gut-wrenching divorce or the death of a close family member.
"Sometimes I literally have nights when I cannot sleep, the pain is so acute," says the 26-year-old Lebanese American and Maronite Catholic. "I think my grief has been so deep not only because of my own sorrow, but because I see the church suffering in her deepest time of need from the loss of women's gifts."
But Malcoun is dealing with her grief by facing it. For her, that means not hiding or ignoring her call. So when she read about an open house for young men interested in the priesthood, she knew what she had to do. She showed up at St. Charles Seminary in Philadelphia and asked the director of vocations to consider her for admission to the candidacy process. He stuttered a bit, but his answer was clear: Her request was impossible.
"At first I think he was quite shocked. He said he had never before been approached by a woman who felt called to ordination," she recalls. "Then he tried to encourage me and convince me to use my gifts in other ways."
This young woman is gutsy, but not naive. "I knew that they'd probably say no, but I also believe that with God all things are possible," she says. "And I felt to be authentic to God's call I had to do everything I could in my human capacity to answer that call."
Malcoun's calling—like many women's—took root at an early age. "By Confirmation, I knew I wanted to commit my life to the church and to God, though I didn't know how," she remembers.
She considered religious life, but by college realized her heart was being tugged toward ordained priesthood. "I've always had a powerful passion for the Eucharist, and I realized what a privilege it would be to be an instrument through which Consecration could occur," she says.
But Malcoun now realizes her call is more than a desire for a sacramental role. "It's part of my personal identity," she says. "When people ask me what I do, I don't know what to say if I can't say 'priest.'"
For several years, Malcoun tried to do just what the vocation director would later advise—find other ways to use her gifts to serve the church. Armed with an undergraduate degree in theology from the University of Notre Dame, she studied for a master's of divinity degree at Harvard University, where she regularly led worship, preached, and offered the sacraments in her work as a hospital chaplain.
She seriously considered a career as a spiritual director, chaplain, or pastoral counselor but, after much prayer, admitted they were substitutes for or partial components of her true calling.
"So I keep asking God what he wants me to do with this."
And does God answer? "Well, we're still in discernment," she says.
These days, she feels challenged to be open to other options. "I've been praying about it, and I've come to the decision that I don't want to be celibate and I am ready to answer this call. Both of those point to being open to serve in other denominations."
So now she's attending an Episcopal Church and still listening for God's voice in all of this.
"It's so sad because I love the Roman Church. But I just can't stay anymore; it feels abusive," she says. "But there's also a little relief and even joy in this decision. I feel a real peace about it."

The Call Doesn't Go Away
Life has not always turned out the way Mary Ruth Broz thought it would. When she first entered the Sisters of Mercy, she wore a full habit and taught eighth graders. The young nun certainly never imagined herself as a spiritual director running a center of feminine spirituality.
But for years Broz was sure she would be among the first women to be ordained Catholic priests. In the years right after the Second Vatican Council, many women entered seminaries with an eye toward preparing for the eventual ordination of women. Broz was one of them, beginning work on a master's of divinity at the Jesuit School of Theology in Chicago in 1975.
"Those were very exciting times," she remembers. "The winds were blowing and change was in the air. At the time, I really believed the ordination of women was coming, definitely within the next 20 years. I thought I would be in one of the first groups."
She and the other women in her class did everything required of the Jesuit seminarians. But when graduation time came, they were in the pews at ordination. "It was one thing to know in your head that you won't be ordained, but sitting there I felt a lot of hurt and disillusionment with the church I love," she recalls.
Vocation is not a foreign concept to the 56-year-old Broz, who entered religious life after being taught by Sisters of Mercy in college. "I've always felt called to helping people make connections between their ordinary lives and where God is in the midst of them," she says.
That's exactly what she was doing as director of novices for her order when she began to realize she was being called to the priesthood. "Most of my work was in the area of faith development in people's lives. It just seemed natural to want the sacraments to be a part of it," she says.
Broz has continued to feel the pull toward sacramental ministry in her work as a pastoral associate, retreat director, and spiritual director. "It just seemed like the Eucharist and Reconciliation belonged in these conversations," she says. "It still saddens me that the sacraments can't be part of my work."
But after 25 years, Broz has worked through much of the hurt and disappointment. "It didn't feel right to let this destroy me," she says. "I have to keep remembering that this is all part of the spiritual journey."
And she definitely believes God is working through the pain and confusion. "I believe I'm just where I need to be," she says. "It may be that the way I'm doing ministry now is preparing a path for others to continue believing in and honoring their call. When the pope comes out with his statements, he's honoring what he hears. We all have to honor our calls. God works in the midst of both."
Yet Broz still waits for the day women will be ordained. Even more, she prays for a renewed priesthood that is more inclusive and less hierarchical.
"I believe women will be ordained. However it happens, they will," she says. "Scripture says if a call doesn't go away, it's truly from God. All I know is that the call hasn't gone away."
Heidi Schlumpf is assistant editor at U.S. Catholic.
All active news articles