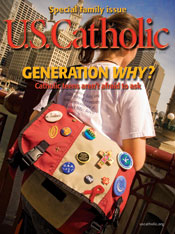 June 2008
Generation why? Catholic teens aren't afraid to ask: The under-18 set is known for questioning, and Christopher Ringwald finds that religious topics are fair game. You may find that some of their queries are on your list, too.

Our love is here to stay: Catholicism has just what the doctor ordered for making marriages last.

Come one, come all: "Whole community catechesis" may not make a catchy slogan for religious education, but it's working for parishes that try it, even if they can't say it three times fast.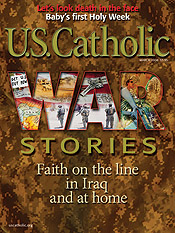 March 2008
War stories
Faith on the line in Iraq and at home
As the conflict in Iraq enters its sixth year, some may wonder if faith lies in fragments along with wounded bodies. But trust in God isn't among the casualties, the editors of U.S. Catholic discover, as they relay the reflections of soldiers, mothers, a chaplain, and a refugee.

Road scholar
If you think Jesus was an idealist with his turn-the-other-cheek approach, take a look at St. Paul, the apostle of do-it-yourself morality. In this Expert Witness interview, Father Jerome Murphy-O'Connor, O.P. describes the great missionary's vision for a grown-up church.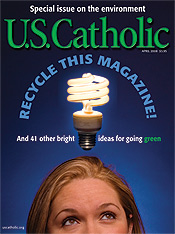 A special issue on the environment for April: