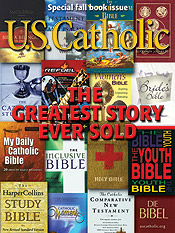 Fall "Good Book" issue
The greatest story ever sold
With sales in the half-billion-dollar range, the Good Book is also good business for book publishers, who print Bibles in every size, color, and translation. Here's a guide to finding one just right for you.

Also: Step one: Open the book
OK, so it's really thick, has super-thin paper, and hundreds of chapters, but don't let that intimidate you. The Bible is a feast for the soul, so take a deep breath and dig in.

Editor's Fall book reviews | Bible resources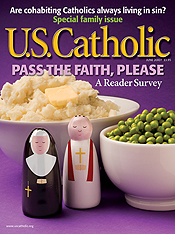 Pass the faith, please
Handing on Catholic tradition and practice to your kids can be a little more strenuous than passing the peas and carrots. Not to worry, writes Catherine O'Connell-Cahill in this Reader Survey. U.S. Catholicand family newsletter At Home with Our Faith readers have plenty of ideas to keep family faith cooking.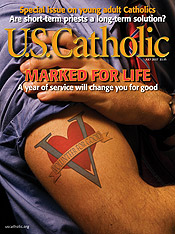 Special issue on young adult Catholics
Marked for life
When they signed up for a post-graduation year of service, few volunteers could have guessed that the experience would change them for years to come.

Must love God
Finding a soul mate is getting a bit easier thanks to Catholic dating websites. Now the baptized can IM and e-mail their way to that nice Catholic girl or boy of their dreams.