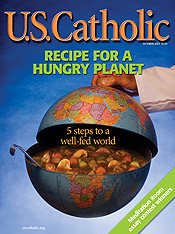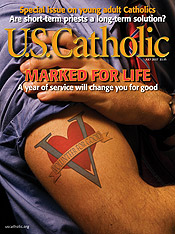 Special issue on young adult Catholics
Marked for life
When they signed up for a post-graduation year of service, few volunteers could have guessed that the experience would change them for years to come.

Must love God
Finding a soul mate is getting a bit easier thanks to Catholic dating websites. Now the baptized can IM and e-mail their way to that nice Catholic girl or boy of their dreams.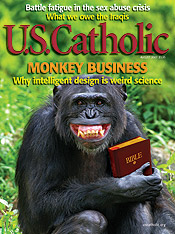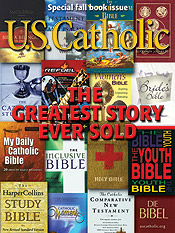 Fall "Good Book" issue
The greatest story ever sold
With sales in the half-billion-dollar range, the Good Book is also good business for book publishers, who print Bibles in every size, color, and translation. Here's a guide to finding one just right for you.

Also: Step one: Open the book
OK, so it's really thick, has super-thin paper, and hundreds of chapters, but don't let that intimidate you. The Bible is a feast for the soul, so take a deep breath and dig in.

Editor's Fall book reviews | Bible resources