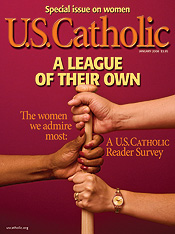 Special issue on women!

A league of their own: Though women have often been sidelined in church life and history, U.S. Catholic readers come up with an all-star roster, writes Megan Sweas in this Reader Survey about the women who inspire us. You're sure to become a fan, too.

Honor your Father and Mother: There are better ways to imagine God than a white-bearded chap in the sky, says theologian Elizabeth Johnson, C.S.J. in this interview. New images of God can come from the experience of all God's people—male and female.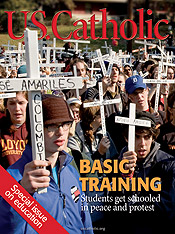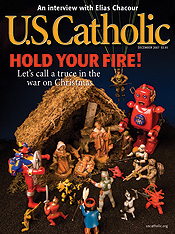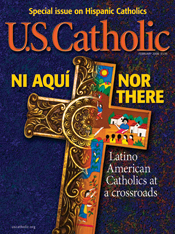 Special issue on Hispanic Catholics!

Ni aquí nor there: Latino American Catholics in search of a church can feel a bit like Goldilocks, with some churches hotly focused on the issues of recent immigrants and others cold to Hispanic Catholic culture.

Catholics without borders: Immigration may be our new national "third rail." Catholics need to step back before they get swept up by the rhetoric, says Sacramento Bishop Jaime Soto.

Web special!
That all may be one: Carmen Aguinaco Interviews Sister María Elena González, R.S.M
More articles from the January issue:
Shelter me, O God
Faith can mean the difference between life and death for victims of domestic violence.

See no evil
While much of the world has closed its eyes to the genocide in Darfur, Catholics are helping refugees and spreading the word about the tragedy.